Sprint to offer Motorola's i1 Android model on July 25th via web and telesales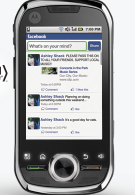 Motorola's i1 is different than most other Android phones. While most other members of the species try to fit in as many features as possible in a very nice looking body, the i1 is designed for those who want to take the Android platform out with them to a construction site, or while mountain climbing or backpacking through rough terrain. You get the picture. The handset offers PTT through Nextel Direct Connect and is built to Military 810F standards. The i1 could probably withstand horrific drops, dings and pings and the Military standards that the phone is built to pass means that the phone should withstand shock, dust, rain and more. And even with the ruggedness of the phone, it still is an Android model which means access to the Android Market and all of the features that you can expect from the platform.
We hate to be picky, but we do need to point out that Android 1.5 is under the hood. But the Motorola i1 is built for a different kind of user than, say, the Droid Incredible. No oversized screen here, just a quite usable
3.1
inch display with resolution of 320 x 480 pixels. This is not the kind of phone that succumbs to a "death-grip". This is the kind of phone that puts a "death-grip" on other phones. By picking up this model, Sprint gets to give the hard hat wearing, back pack toting user of those rugged Casio phones a different model to choose from that can survive almost anything but with all of the fun and pleasure of the Android OS-even if it is 1.5. Features like alternate keyboard Swype are available as is the Sprint Mobile Locator that helps you track employees in real time on a PC, using the GPS functions of the phone. The Android web browser will allow you to view Flash-8 enabled sites using Wi-Fi while the Opera Mini 5 browser allows for surfing over Wi-Fi and Nextel's National Network.
Sprint will offer the Motorola i1 starting July 25th for sales over its web site and through telesales. Other channels-like the Sprint retail store and the guy on the corner wearing the long jacket-will make the unit available beginning August 8th. The price will be $149.99 after a $50 mail-in-rebate and a signed two-year contract. No need to baby the Motorola i1, so if you are a bit rough with your phones-and you know who you are-this could be a great combination of strength and substance. If you want to receive an e-mail whenever Sprint has some more news on the model, head over to the source link and sign up for alerts.
Motorola i1 Specifications
|
Hands-on
source:
Sprint
via
Engadget