Sprint to keep unlimited data, it's a "differentiator," CTO says
22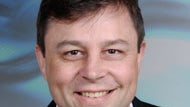 Sprint's CTO Stephen Bye is one of the key people at the carrier when the fate of its unlimited data offers is being discussed and he reassured everyone that the Now Network is keeping data just as the users like it -
unlimited
. CTO Bye stood for an interview with GigaOM and spoke about the future of Sprint.
Still, keeping unlimited data is a tough issue and it is being actively discussed internally, but for the time being it's more of a
"differentiator,"
setting the carrier apart. And there's a couple of reasons why Sprint would like it to remain this way. First of all, it's simpler from a technical standpoint to just offer unlimited data as there are no complex calculations to be done. In addition, users also don't get confused and have a very simple system, ultimately translating into less resources required to support the service.
On the flipside of things, Bye mentioned that
"there's clearly a cost there to support unlimited"
and as the distribution of usage is not always equal
"there's pressure and that's a challenge for all engineers."
So it's not 100% certain that the carrier will keep the unlimited offering in the long-term, but it's sure that Sprint sees it as an advantage, a differentiating factor - just as the users.
But the market is not one where everyone wants the same service and that's why Sprint will continue its MVNO efforts including
Virgin and Boost
, which give the users more affordable and shorter-term alternatives to long carrier plans.
Of course, it didn't go without
iPhone questions
, but the executive was tough and nails and didn't utter a word about an upcoming iPhone on the carrier. He did however mention that the Now Network has done
"tremendously well"
without the device. You make something out of this. All other minor indications however have pointed to Sprint finally getting Apple's handset, though, so we're keeping our fingers crossed - the official announcement is rumored to fall on October 4th, right around the corner.