Sprint responds to T-Mobile's trade-in promotion, offers the iPhone 6s for as little as $1 per month
12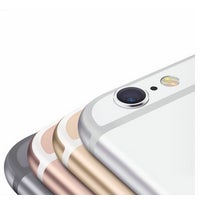 While Verizon and AT&T are dueling out for the title of largest telecom operator in the US by subscriber count, Sprint and T-Mobile are currently engaged in a
gloves-off battle for the third position
. Unwilling to let T-Mobile claim a firm grip of the podium spot through its latest iPhone trade-in promotion, Sprint has recently announced a similar deal, basically offering a free upgrade from the
iPhone 6
to the
iPhone 6s
.
T-Mobile lets you have the
16GB iPhone 6s for as little as $5 per month
through its Jump! On Demand lease program if you trade in an iPhone 6. Sprint's new promotional offer, which is actually an extension to its
iPhone Forever program
, lowers the monthly payments to just $1 per month if you're willing to trade your iPhone 6 or
iPhone 6 Plus
. That's obviously on top of the monthly data and voice subscription.
If you're looking for something more than the entry-level
Apple iPhone 6s
, you can also get the 64GB version for $5.77 per month, or the 128GB version for $10.3 per month. The
iPhone 6s Plus
is also available through the trade-in promo, at $5, $9.77, or $14.53 per month for the 16GB, 64GB, and 128GB versions, respectively. Oh, and you can also trade-in the two-year-old iPhone 5s, and Sprint will lower the monthly payment to $10 monthly for the iPhone 6s or $14 monthly for the iPhone 6s Plus.
It's nice to see telecom operators battling it out, especially since these deals and promotional prices are a direct consequence of the fierce battle between carriers for your monthly subscription. What do you guys think?