Sprint reps getting Cliff Notes version of Samsung Conquer 4G specs
5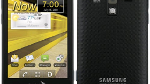 Looking at a leaked photo of training material for Sprint reps on the upcoming low to mid-end Samsung Conquer 4G, we are reminded of one of those late night spy flicks in which the agent is given information to study. When the spy has everything memorized, he crumbles up the material and eats it. Of course, in today's paperless world,
we simply hit the delete key
. What brought this to our mind is the aforementioned training material for the Samsung Conquer 4G.
Sprint has
thoughtfully divided key selling points
to make them easier to remember. The primary selling points for the phone includes the Android 2.3 OS on board the phone, the WiMax enabled 4G connectivity on the device and the front and rear cameras with flash on the back. The secondary selling points listed video chat capabilities via Qik, Sprint mobile wallet and the swipe to type Swype virtual QWERTY. Additional selling points feature the browser with Adobe Flash, a 3.5 inch touchscreen, 1GHz Snapdragon processor (which was high-end a little more than a year ago) and a pre-installed 2GB microSD card.
The last speculated launch date for the phone is August 21st, which we recently
reported
was found on a Sprint road map.This map might have showed a possible release date, but pricing is still unknown. Once Sprint reps have all of this info locked away in their brain,
they have a tasty treat to digest
, a quick tap of the delete key keeps it away from the enemy.
source:
AndroidCentral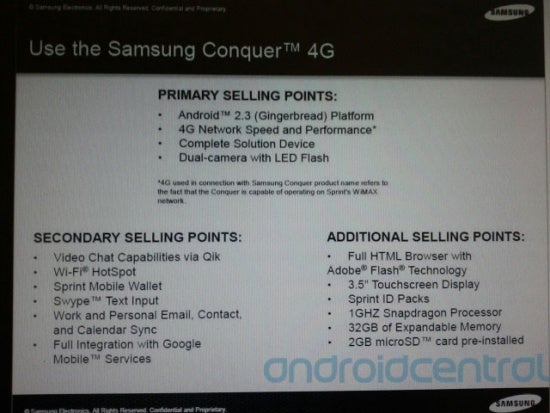 Training material for the Samsung Conquer 4G