Sprint may be preparing for their own iPhone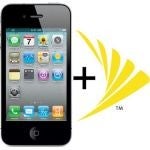 All the focus recently has been on the
iPhone coming to Verizon
on February 10th. But what about Sprint? Most people haven't noticed, but they've made a subtle change to their HTC EVO 4G commercials. Rather than knocking the iPhone, as the commercial once did, the ad now has no specific mentions of Apple's iPhone.
But what does this mean? Well, it could mean that
Sprint
is extending an olive branch to their Apple-toting competitors, AT&T and Verizon. What's more likely is that Sprint is preparing for their own upcoming iPhone launch. Verizon went through the same transition last year, when they phased out their anti-iPhone ads.
Verizon's launch of the Motorola DROID was rife with derogatory iPhone comparisons, but about a year before their iPhone launch, they stopped mentioning the iPhone altogether. So are we going to see a Sprint iPhone within the next year? Who knows? This is obviously speculative. But it sure looks like Sprint is trying to make themselves a more appealing partner for Apple.
source:
Beatweek
via
PPCGeeks