The first Verizon Apple iPhone 4 commercial airs
12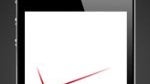 Late last night, Verizon took the first step towards their Apple iPhone 4 launch by airing the first commercial advertising the much anticipated February 10th release in a semi-overdramatic way.
The commercial is full of ticking clocks and really tries to play the impending release of the iPhone 4 on their network as the greatest thing to ever happen in the history of time. The few people they show in the commercial help create a feeling of anxiousness, with the twiddling thumbs and the doodling on scrap paper.
Oddly, they never actually show the iPhone 4, just the phrase "It Begins" and a flash of the 2.10.11 release date. Of course, this is probably the first of many Verizon iPhone commercials that will hit the airwaves.
Check out the commercial and tell us what you think in the comments below.
source:
Mac Rumors