Sprint launched Highnote, Lotus and Rant
11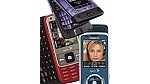 Sprint has recently added three more phones to its portfolio, Samsung's Highnote and Rant along with LG's Lotus. All of the new devices will support Sprint's new One Click
UI
which allows the user to customize the phone according to their preference.
The
Highnote
, like the
N95
and the
F400
, is a two-way sliding handset. One slide reveals the keypad while the other uncovers the stereo speakers. Equipped with a 2-megapixel camera and supporting EV-DO, the phone is capable of stereo BT profile, which in return is complimented by holding a microSD of up to 16GB in memory. The scroll wheel can also be used as a traditional directional pad, which is similar to Samsung's
BlackJack II
that was released for AT&T a while back.
The
Rant
is a slider as well. It is similar to the
LG Rumor
in its form factor, as both have side-sliding QWERTY keyboards. The device has been designed for heavy texting, emails and/or IM. Other than the form factor, the Rant and the Highnote are similar in having the same capacity of supporting a 16GB microSD card, a 2-megapixel camera and the stereo BT profile.
The
LG Lotus
, which also has a QWERTY keypad, is a clamshell phone aimed at the fashion sensitive audience. Having a totally different form factor than the other two phones, the Lotus, too, has features that are similar to that of the Rant and Highnote. The LG Lotus is also fitted with a 2-megapixel camera and stereo BT profile but lacks the 16GB support for the microSD card slot. Instead, it can hold up to a 12GB memory card.
All three new phones along with the new UI, support EV-DO and are aimed to support Sprint's Simply Everything plan.
The Highnote is available for $99.99 after a 2-year contract and comes in red or blue. Priced at $49.99 with a 2-year contract, The Rant comes in red or black, and a purple version is available exclusively at Best Buy.The Lotus comes in satin black or a textured purple and can be purchased for $149.99 after a 2-year contract.
source:
Sprint
Recommended Stories