Spotlight: in this game, Obama and Putin ride mythical animals and battle communist zombies
9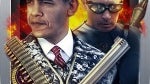 Coming from the producers of "Fuhrer in LA", "Wrath Of Obama" is an action-strategy game about absurd, world politics-tinged humor. Basically, you spent the majority of the game as president Obama riding an amazing masked horse and commanding armies against the forces of comically evil Putin riding the mighty Russian bear.
As the game drags along, the two world leaders will have to face off against a new, deadlier... dead-er common enemy - zombies. Awoken by an undead Lenin-demon, hordes of communist zombie fiends rise from the graves to enforce the Marxist principles of brain expropriation upon the unsuspecting planet.
Although the gameplay isn't very dynamic, and the plot sounds like something a bored Seth Rogen made up during math class in fifth grade, "Wrath of Obama" has its goofy charm. We really liked the graphics, which are full of special effects and animations. You'll get to visit Moscow, Ukraine and New York as your battle theaters. Hopefully, you'll get to have a laugh as well, but if you don't, there's always the two-hour refund period.
"Wrath Of Obama" is about $2 on Google Play.