Spotlight: SlideME is a junk-free alternative to the Google Play app store
25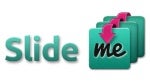 As an Android user, have you ever felt that Google Play has just too many freaking apps, and the overwhelming majority of them aren't very good at all? Having many apps is good, but wading through ten apps that do the same thing, just to find out that only one is actually worth your time while three are outdated, three are awfully bloated, and the rest is ad-riddled like a cheap newspaper? That, frankly, sucks. SlideME, which is a well kept, well looked after third-party app store, wants to remedy these woes.
Those running the store manually inspect and review app submissions, judging apps like regular users would - based on meaning and value. Hence, the place is kept clean of junk apps, scams, and other types of apps you absolutely shouldn't touch without surgical gloves on. The quality over quantity approach works quite well, and there's another concept at play here, which could appeal to many users over the globe - SlideME apps are curated to function on AOSP-based devices, hence they are not solely dependent on Google Play Services.
As for the app store itself, it has a nice enough interface, apps are listed by category, and the payment system supports the Paypal, Amazon, and SlideME Wallet platforms. In short, we have a respectable alternative to Google Play that could easily provide a more focused, less cluttered app downloading experience.
As it's the way with third-party app stores on Android, you'll have to sideaload SlideME yourself by downloading the .apk file on your device and installing it. You can do so from the links below.