Spotlight: Screens is one of the best multi-window managers for Android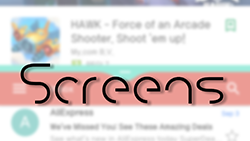 With split-screen multi-tasking already a pretty big part of Android, it's no surprise that users and developers will explore ways to make this feature as convenient as possible.
Today, we are about to show you a really neat app that allows you to create your own custom multi-window app setups. Dubbed Screens, the app allows you to choose any two multi-window-compatible apps and create a desktop shortcut that will launch them both in split-screen as soon as you tap on it.
The interface of the app is as intuitive as it gets and doesn't allow for much customization, but gets the job done. One thing we wish we could pre-define is the height for each window, but we guess it's no big deal since you can do that manually when the apps are running anyway.
There aren't any custom icons for the newly-created shortcuts (any new shortcut uses Screens' default app icon), but you can easily change the icon with the help of any self-respecting Android launcher as you please.
The app is free to download and use, which is great, and while it can be easily deemed a bit lackluster in the customization department, we'd recommend it for the simplicity it provides. Don't miss it if you're a multi-window enthusiast.