Spotlight: Grim Fandango Remastered waltzes onto Android & iOS
5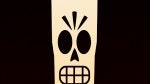 When we learned of Grim Fandango: Remastered's arrival on Android and iOS, we couldn't help but think "they don't make games like this one anymore". Back in 1998, when Grim launched on PC, most gamers preferred to distract themselves with things other than the game's opaque puzzles (*cough* Half-Life *cough*) and film-noir-about-the-dead narrative. But time has its strange ways, for Grim Fandango's rhythm of telling witty stories via exploration and puzzles jibes pretty well with the state of mobile gaming circa 2015. Now a beloved classic, it arrives on Android & iOS completely preserved, save for a fresh coat of pixel paint.
Grim Fandango takes place in the Land of the Dead, where recently departed souls aim to make their way to the Ninth Underworld. Good deeds in life are rewarded by access to better travel packages to assist in making the journey of the soul, the best of which is the Number Nine, a train that takes four minutes to reach the gate to the Ninth Underworld. Souls who did not lead a kind life are left to travel through the Land of the Dead on foot, which would take around four years. Such souls often lose faith in the existence of the Ninth Underworld, and instead find jobs in the Land of the Dead. The travel agents of the Department of Death act as the Grim Reaper to escort the souls from the mortal world to the Land of the Dead, and then determine which mode of transport the soul has merited.
They don't make games like this anymore.
You play as Manny Calavera, a travel agent slash grim reaper in search of Mercedes "Meche" Colomar's lost soul. The plot sounds wacky on paper, but if you dig deep into the game, you'll end up playing a classic noir story in which you are, basically, a skull paint-wearing Philip Marlowe. The game's grandiose production values for the time - a 3 million dollar budget, large voice acting talent, original score, take the cinematic feel all the way to the end. The remaster itself is a labor of love, which involved tracking pieces of lost code from the original programmers at LucasArts, and recruiting the work of freelance mod creators who once whipped the game into shape for unofficial high-resolution ports. Truly a original and brilliant game, Grim Fandango is definitely worth the attention. Hopefully, the tank controls and sometimes awkward camera angles that were characteristic for 3D games of the time won't spoil your fun!