Spotlight: Adguard is the "no root required" Android ad blocker you want in your life
36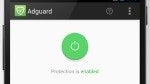 If you stop a random tech-savvy person on the street and ask them why they root their Android smartphone, we bet Luis' unwashed slippers that the answer will be "because AdBlock"! Those longing for an Android ad-blocker have three quality alternatives to choose among - Adblock Plus (the classic), AdAway (the one with awesome support), and Adguard (the handsome one). Adguard might be a little less familiar to the ad-less tribe, though, so we felt it's worthy of an introduction.
Meet Adguard! Its strong points are a fair few. The most important one? No root required! This alone elevates Adguard into the ad-blocking elite!
The most prominent, but not essential feature though, has to be its modern design. Adguard is styled materially, giving Google design fans enough soft shadows and white spaces to turn the short time they spend inside the app's menus into quality time.
Moreover, Adguard uses local VPN technology to do its ad filtering business. That is, it has a VPN server embedded right in it so there's no need to make additional remote connections. Just run the app and it starts to filter all your traffic in the background.
Otherwise, Adguard does the typical ad-blocker/privacy app things. It gets rid of ad and online tracking codes found in web pages. Websites are also checked against a database of phishing and malicious sites, and you'll get a warning if there's a match. Adguard also scans apps downloaded from unknown sources for malicious code.
So, has Adguard won your interest? Great, but you won't find it in Google Play, because ad blockers kind of ruin Google's business and the company maintains a "ye shall not pass!" policy for them in its app store. So treat yourself to the .apk file from the link below. Just download it onto your device and install it like you do with your third-party apps.