SpotACop 1.0 helps lead footed iPhone users avoid Smokey, 10-4?
7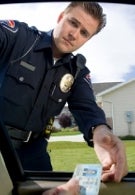 If you're one of those iPhone owners that has to speed everytime he or she is behind the wheel, there is an app for you. Called SpotACop 1.0, the download is basically a social networking radar detector. Based on reports from other drivers, the app warns you when you are close to an area where other drivers have seen a cop with radar, and warns you to slow down. The app will also tell you how long it has been since the policeman was spotted.
The creator of SpotACop, Robert Landis, explains why he developed the app. "I was compelled to develop SpotACop because honestly, I have a leadfoot. I started thecompany because I thought there had to be a better way to notify peopleof a cop other than flashing your lights at them. Being young andambitious drove me to try to create an app that I hope is useful andinexpensive." The software will work on an iPhone 3G or 3GS running OS
3.1
.2 or later, and with at least .4MB available. The app costs 99 cents which is sure a heck of a lot cheaper than paying a speeding ticket.
source:
prMac