Spectrum transfer from AT&T to T-Mobile approved by FCC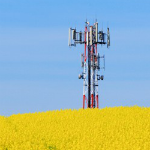 Part of the $4 billion breakup deal that was activated when the AT&T acquisition of T-Mobile fell through was that T-Mobile would receive a chunk of AWS wireless spectrum from AT&T. That spectrum transfer is now free to proceed as the FCC has given its approval.
All of the areas covered in the deal are highlighted in the nifty map to the right, which was made by GigaOM reader Anthony Shepherd. T-Mobile has said that it will use this new spectrum to help push forward with plans to build out an LTE network, which it wants to launch by next year.