Specs leak for the Samsung Galaxy Tab 4 Advanced
20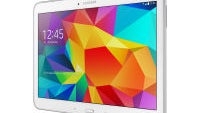 Samsung definitely has some new devices on the way and at least one of them is a new tablet. Tablets in general haven't really been doing too well in the market, but Samsung wants to keep trying it seems. The latest leak is for a device called the Samsung Galaxy Tab 4 Advanced, but from the specs we're seeing, the device is not "advanced" exactly.
The device, under the model number SM-T536, has popped up on a benchmarking site before and this time a leak comes from a Korean PDF. The specs show the tablet with a 10.1-inch 1280 x 800 resolution display, 1.6-gigahertz processor, 2GB of RAM, 32GB of storage with microSD card support, a 5-megapixel rear camera, 1.3-megapixel front camera, 6800mAh battery, and Android 6.0 Marshmallow. So, as we said, not exactly "advanced" in terms of specs.
In the past, Samsung has used the word "advanced" to indicate that a device has support for LTE-Advanced, but even that doesn't appear to apply here because the leak only shows Wi-Fi under the connectivity specs. Maybe the specs are incomplete though. Still, depending on the price, it could end up being a good deal. We'll have to wait and see what the Galaxy Tab 4 Advanced will cost and where it will be released.