SpareOne Emergency Phone hands-on
4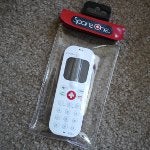 Earlier in the year, we got the chance to check out the single AA-battery powered phone in the
SpareOne
, which was targeted as a backup/emergency phone. Being an unlocked GSM phone, it's perfect for anyone who merely wants a backup phone without being bothered by maintenance – such as making sure it's properly charged. Going one step further, the
SpareOne
is back again just in time for the end of the year, as the
SpareOne Emergency Phone
packs all the wonderful features of its close sibling, but now comes included in a
waterproof packaging
.
Just like before, the SpareOne harkens back to the olden days with its design – so yeah, it's not going to win any fashion awards with its aged looks. On one hand, the all-plastic body of the SpareOne doesn't soundly embody something that's durable, but at the same time, it's super light in weight for something grand in size. And with its over-sized and distinct buttons, there are no problems when it comes to accidental presses.
Now what's neat is that the SpareOne is powered by a
single AA Energizer Ultimate Lithium battery
that's enough to provide 10 hours of talk,
15 YEARS
of standby, or 24 hours using its LED torch light. Sure, you can pop in your standard sized SIM card, but it's nice to know it comes included with a microSIM adapter as well. Better yet, it's the perfect emergency phone because you can still place an emergency call to 911 by pressing the large emergency services button on the phone – and there's no SIM needed for that. Finally, this new model comes with a waterproof packaging that's
IPX7 certified
to withstand submersion under 1 meter of water for 30 minutes.
At
$99.99
, it's a bit more than what some would like to fork out for a basic, worst case scenario phone, but hey, at least you can throw it into your car's glove compartment and still expect it to run after a decade of hibernation.