"Sources" say AT&T isn't really spending $150 million to promote the Lumia 900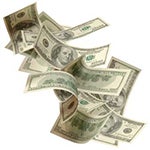 We reported previously that AT&T may spend up to $150 million dollars to promote the Nokia Lumia 900. Those sources are now being contradicted by other sources that say AT&T is not in fact spending anywhere near that amount. Confused yet?
We know that a
monster promotional budget
is being brought to bear on behalf of the Lumia 900 (and by association Windows Phone, which has failed to catch on in the States). AT&T itself indicated that the Nokia 900 launch will exceed that of the original iPhone in terms of promotion. Reports that the budget reaches $200 million or more floated around, and
yesterday's report
that AT&T was going to foot $150 million adverting budget was just the latest in a long line of similar rumors.
Now, sources speaking to The Verge are claiming that AT&T is not spending anywhere close to $150 million, that the real number is in line with "any high-profile device launch." Who is right? With dueling anonymous sources it's sort of difficult to say. This could simply be spin, trying to deflect away from AT&T's investment in case of a failure, or it could be someone in the know trying to correct an erroneous report.
We tend to believe AT&T's own words
; when they say that this launch will
be their biggest ever
, we see no reason to not believe it. Whether that number is truly $150 million is another thing – would $137 million qualify as "nowhere near" in corporate boiler-plate? Of course it may be that while the launch itself is the largest in the network's history, Microsoft and Nokia may be footing most of the bill. Perhaps AT&T really is only spending "average high-profile" device dollars, with the rest of the budget coming from the deep pockets of Microsoft and Nokia.
Given that Nokia is really
spending Microsoft's money
, it may be that Microsoft is fronting
most of the moola
for this effort – certainly they are the ones with the most at stake.
sources:
The Verge
;
AdAge