Soundwave Music Discovery for iOS and Android review: social listener with a Dislike button and celeb playlists
2
If you are a music fan, there is a lot to like in the new Soundwave Music Discovery app for iOS and Android. It is one of the most social ways to find great music we've come across, and an app with a huge potential.
The basic premise is that the app can feed your inspiration to venture outside your comfort zone in music by following not only what you listen to, but also what's getting played by users around you by just drawing a circle on a map of your immediate whereabouts. The
localized trends
get global by allowing you to follow friends and other members, including ones like Steve Wozniak and David Lynch, for example, check out what they are listening to and preview it - you might like it.
Moreover, the app follows streams on services like
Spotify and Rdio
, for example, and offers curated lists by different filters like Most Played, Most Liked and even
Most Disliked
, where out of curiosity we found Justin Bieber, One Direction, Taylor Swift and even PSY's new watery hit "Gentleman" to take the top spots. The songs can then be played via different sources like
YouTube and SoundCloud
, if the piece is available there.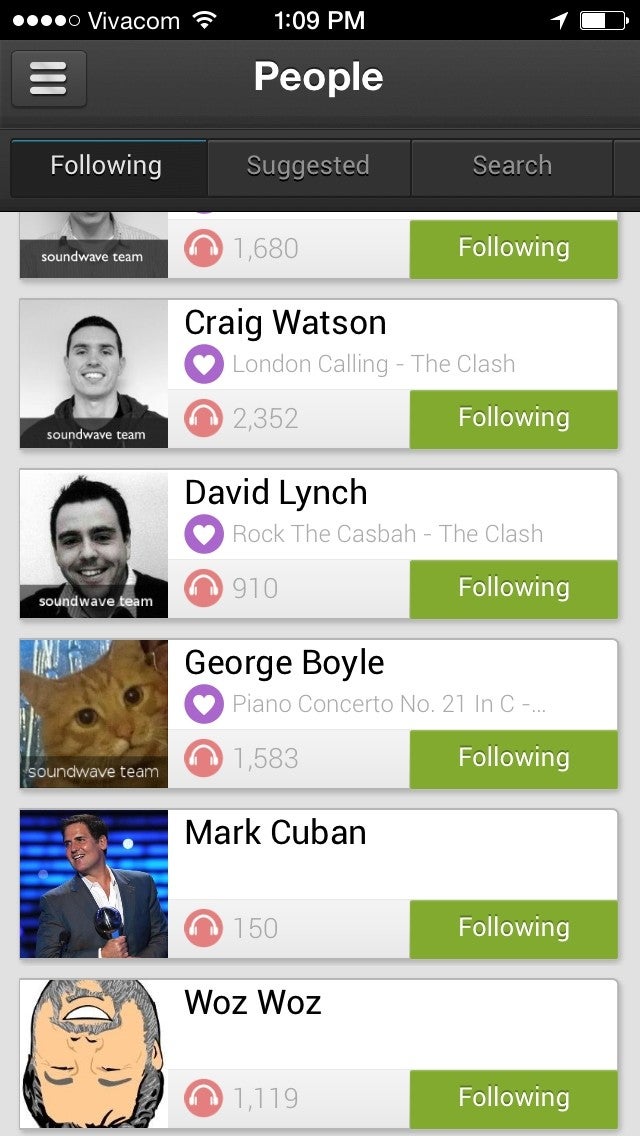 Soundwave Music Discovery starts you off with registering, then asks whether it should use your location for the Music Map local favorites listings, then you can choose people to follow, complete with a search function, and be on your merry way. We hooked up to David Lynch's feed, which was entirely occupied by Arctic Monkeys songs, and you get to listen to a preview for getting an idea about the tune. You can further filter the guy's feed by Top Played and most shared as well.
Of course with all that sharing, including on Facebook and the like, or mutual favorites swapping, your Activity Feed, which includes all of the above listed ways to find music, can get cluttered quickly. Thus it can be filtered as well with four handy tabs at the top of the screen - by plays, ratings, shares and something called humdingers, which is everyone's favorite tune at the moment. You can turn off all sharing with the "Guilty pleasures" function from settings, if you are worried about privacy, including the streaming services dragnet.
"
We're doing a lot of aggregation
,"
says Brendan O'Driscoll
, the CEO. "
You can tap on any person to see their top chart, and get an idea over time of what type of music they're into. But part of the app's appeal, we think, is the fact that the content is always changing
."
One of the goals, however, seems to be that the app serves for a musical Facebook, but with a dislike button, which is often as important as the thumbs-up function for weeding out the fluff. O'Driscoll also aims big with the ambition to provide a
place for little known artists and indie bands to get traction
without the big guys' resources: "
We think it can help recorrect the market. Currently, someone like Justin Bieber can come along with a $10m marketing budget and rise to the top of the charts. We want to help democratise the setup again. And we've got a lot of bands coming in asking how they can use something like this to express themselves and reach out to their fans
."
Whether Soundwave Music Discovery will sink or swim on its own depends on how quickly it gets traction, how much people are sharing through it, and to what extent you as the user, will find the service valuable in discovering cool new stuff, but it's free and worth checking out, be it only to follow what Ashton Kutcher or Steve Wozniak are listening at the moment, or how long Justin Bieber will stay at the top of the Disliked filter.