Sound Meditation for Windows Phone – a relaxation sound generator with a customization twist
8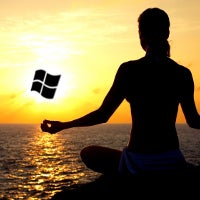 At one time or another, we've all had a night where we just can't seem to relax and fall asleep. Be it from the hectic day behind us or because we are eagerly calculating the pile of tasks that need to be done on the day after, the mind restlessly shuffles many a thought and denies us hours of a good night's sleep.
Enter Relaxation and Meditation music - specifically composed and designed to help those looking to soothe the mind - be it to get some sleep or to meditate easier in the middle of the day - this type of media quickly gained traction in it's niche and of course, it soon received it's own dedicated YouTube channels and mobile apps.
We are looking at one such app today - Sound Meditation - specifically designed for Windows Phone 7, 8 and 8.1. What sets this app apart is that it allows the user to rearrange and combine its sounds in unique compilations, suiting each individual's personal taste.
Each compilation is comprised of a set of various sounds from the app's own Sound Library. They are separated in two categories. The first is "endless loops" - long-running sounds, whose purpose is to form the backbone of your track by - you guessed it - looping endlessly. The second category is for "one-time sounds", which are meant to add some variety to the track by going off at random intervals. Sounds can be freely removed and added again from/to the library; in addition, each different sound's volume and balance can be edited to taste.
The app comes with 11 preset sound compilations, which the user can edit at will. Of course, if one so desires, they can start a brand new one from scratch and create their own relaxation track. The library's contents include - but are not limited to - crickets, frogs, creeks, rain, waves, wind chimes,a spaceship, seagulls, gongs, thunder and even delta waves, which are believed to help in stimulating deep sleep (although one would need to wear headphones to hear them).Additional settings include a duration timer dedicated to each compilation, sleep timer and global mute.
Keeping true to the customization features, the wallpaper can also be changed to one of the 22 included scenes. You can also assign a different background for each compilation.
And that's it. Not many bells and whistles, where not many are needed. T his app is simple and easy to use for meditation enthusiasts and relaxation seekers who would like to have the ability to custom-tailor their background music to fit.
Get Sound Meditation (
Windows Phone
)