Sony's "selfie camera" is a real, perfume-shaped, luxury non-smartphone thing
23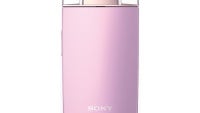 Hey, remember that ridiculous-looking Sony
"selfie camera"
that looked like a perfume bottle cap stuck on top of a Xperia smartphone? Well, it just got official in China! It's not a fake contraption, neither it's the
Sony Xperia C3
"selfie smartphone". It's called the Sony DSC-KW1, and believe it or not, it can be explained.
The KW1 is a literal selfie camera that looks like a Xperia phone with the cap of an expensive perfume bottle attached to its top, and a back that's styled like a bottle itself. The device's body houses a 3.3-inch OLED display, while the top part houses a 19.2 megapixel camera with Sony's latest sensor technology. The 21mm f2.0 camera lens can be rotated 180 degrees, capturing the beauty of its (mostly female, we presume) users from every angle.
Also, the camera has built-in Wi-Fi and NFC connections, and it records 1080p video. There are touch slide shutter, self-timer, instant share, and smartphone control functions built in, while the surface is inlaid with "dazzling Swarovski elements".
Great! But seriously, what's with the perfume bottle? Well, apparently Chinese ladies are really into decorating their phones with cases that look like premium Chanel perfumes, so Sony decided to go ahead and cater to this growing customer niche. However, the gadget's price is absolutely nuts - $843 (5,199 yuan).
Recommended Stories