Sony's Z3+ Quick Charger will deliver 5 hours of battery after a 10-min charge
26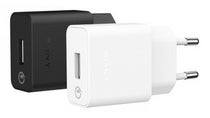 Qualcomm's Quick Charge technology has been something of a revelation, allowing mobile device owners to make incredible battery gains through short-term charging. It's the lazy / disorganized person's dream ticket, and with the announcement of Xperia Z3+ today, Sony has revealed that its latest flagship does indeed arrive with Quick Charge support. The official UCH10 charger will deliver 5.5 hours of battery life from just 10 minutes of charging, while 45 minutes should offer enough juice to keep the device ticking over an entire day.
There are some caveats to the Quick Charge capabilities of the Xperia Z3+, however. The charger will work with the single SIM version of the device, but apparently not the dual-SIM, Xperia Z3+ Dual edition. It seems a bit of a strange move on Sony's part to omit the Z3+ Dual, particularly since it's seemingly identical to the ordinary Z3+ aside from the additional SIM slot. Then again, odd decisions and quizzical release patterns have become a forte of Sony's mobile department just lately.
As yet, we don't know whether the UCH10 will ship with the device, or is something that will only be sold separately. Available in black and white, Sony also mentions its compatibility with the Xperia Z3 Compact, so if you're in ownership of the smaller handset and would like faster charging, the UCH10 might be an acquisition to consider.
Despite a battery capacity of 2,900mAh -- smaller than that of the Xperia Z3 -- Sony claims the Xperia Z3+ can keep running for up to two days. We're inclined to believe that with moderate-to-heavy usage, as one might expect of a high-end smartphone owner, the actual, real-world longevity is closer to the one-day mark. But with Quick Charge also making the cut, it's clear that Sony wants to focus on keeping the Z3+'s lights on for as long as possible, and if you need a rugged handset that can stay awake for a long time, the new flagship should probably be on your radar.