Sony unveils new IMX318 22.5MP sensor: could this be the camera for the Xperia Z6?
49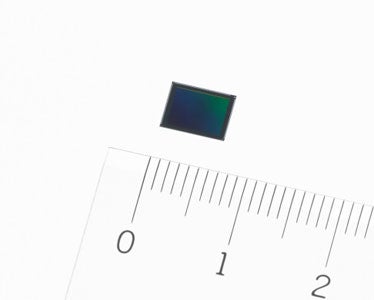 Sony has just taken the wraps off its brand new camera sensor for smartphones - the Sony IMX318 - and it comes with two hugely impressive new features: lightning fast auto-focus and 3-axis video stabilization, a first, according to Sony.
Sony says the new sensor takes just 0.03 seconds to auto-focus and its stabilization is unmatched, but to fully comprehend the meaning behind these two numbers, you should simply watch these two short illustration videos.
Hybrid auto-focus
So how does this new impressively fast hybrid auto-focus (AF) work? Sony explains that Hybrid AF merges image plane phase detection AF with contrast detection AF and has previously been implemented through the combination of an image sensor and an application processor. With the IMX318, though, Sony introduces the world's first stacked CMOS image sensor with hybrid AF built into the sensor's internal signal processor. This allows AF as fast as 0.03 seconds and as fast as 0.017 seconds when shooting video at 60fps.
Smooth 4K videos: built-in 3-axis stabilization
We have had phone cameras with 3-axis stabilization (the LG G4, for instance), but the new Sony IMX318 is the first with 3-axis stabilization built into its internal signal processor. This means that we can finally get smooth 4K with little camera shake by making effectively use of the signal output obtained from the external 3-axis (pitch, yaw, and roll) gyro sensor. This new technology incorporated into the IMX318 corrects not just camera shake, but also lens distortion. On top of that, with stabilization processed within the hardware of the image sensor itself, less power is used. Its remarkable stabilization capabilities make the Sony IMX318 a great fit for use in drone cameras as well.
Sony IMX318: 22.5-megapixels, smallest individual pixels
The Sony IMX318 is a 22.5-megapixel 1/2.6" sensor and at that size, it features the smallest pixel size we have seen on a phone camera: just 1 micron. Pixel size is considered a key feature for judging how well a camera performs in low light: the larger the individual pixel size, the more light it can capture and perform better in low light. For comparison sake, the majority of smartphones these days have a 1.12 micron sized pixels, while some phones that take pride in their low-light camera performance have up to 1.55 micron pixels. Given the fact that this new sensor has such small pixels, it's particularly impressive that Sony claims there is no drop in image quality from its popular IMX230 camera sensor

No drop in image quality from the IMX230 predecessor, Left 1.12μm unit pixel size, Right 1.0μm unit pixel size
Release date: shipping this fall
With a release date set for the second quarter of 2016 (read, late June 2016), the Sony IMX318 has all chances to be the camera used in the Sony Xperia Z6.
Not just that, if it is as impressive as it looks, we would not be surprised the Sony IMX318 to become the camera of choice in the Galaxy Note 6 and even the iPhone 7, as both Samsung and Apple are traditionally loyal Sony clients.