Sony to unify its phones and tablets under the Xperia brand, 9.4" aluminum slate coming September
16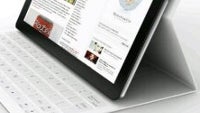 Leaked slideshow reveals a 9.4" "Xperia" tablet is coming, with splashproof aluminum body and Tegra 3 quad-core processor, signaling that Sony will unify its smartphones and tablets under the Xperia brand, in line with the
One Sony strategy
.
The slate will have the same size screen as the
Tablet S
, with 1280x800 pixels of resolution, and the same "wedge"design, but will be
42% thinner
, at 8.8mm in the wedge section, which is a stellar achievement. Other notable specs include an 8MP rear camera, and 6000mAh battery promising 10 hours of web browsing. Android ICS "or later" will be running the Xperia Sony Tablet show.
Sony is supposedly planning a number of accessories as well, such as the obligatory keyboard cover (which looks svelte in the slideshow below), a charging cradle, dock, speaker, a stand and a carrying case. As for the software side of things, the Xperia tablet is allegedly going to have a "Guest Mode", where different users can log into different profiles, to ease the eternal family tablet feud.
The Xperia slate is expected to be released in September with an ERP of $450 for the 16GB version, $550 for the 32GB, and $650 for the 64-gigger, if the introductory prices in the slideshow below are to be believed. The source that posted these, however, claims they work for Sony, and the actual prices will start more like $400 for the 16GB version, which we prefer to believe.