Sony teases the PS4 PlayStation app including streaming game video
7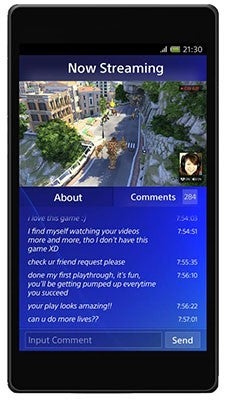 It's been a big time recently for Sony PlayStation fans, because the company finally showed off what to expect from the next-generation PlayStation 4. We were a bit disappointed to find out during the announcement that Sony wasn't planning to expand the
PlayStation Mobile
offerings, but now we're getting to see a bit of what is planned for the new
PlayStation
app that is planned to accompany the PS4 at launch on iOS and Android.
All we knew so far was that the PlayStation app was going to be something of a "second screen" similar to the Wii U GamePad, and would add a bit to gameplay, but today's release focuses more on the social aspect of the app. Or at least we're assuming this is the same app. The image came along with other high-res images designed to show off the social and video editing options in the PS4 software.
The image seems to show the PlayStation app streaming live gameplay video with a stream of comments below. It looks like there is a picture-in-picture view that also shows the gamer as she is playing. It seems like an interesting idea, but is it something that anyone wants to use? Tell us in the comments!