Sony taking pre-orders on the Xperia X2a for U.S. buyers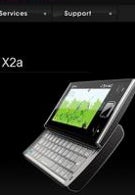 With everyone talking about the Sony Ericsson Xperia X10, it is easy to forget about the Xperia X2. After making an overseas tour, the X2 is now ready for pre-order in the U.S.as the Xperia X2a. There is really no comparison between the X10 and X2a as the latter is powered by Windows Mobile 6.5 and features the unique panel display that was seen on the Xperia X1. Unfortunately, the X1 was never able to find a home with a U.S.carrier and the X2a seems to have suffered the same fate. This means that if you have you heart set on this handset, you will need to dig deep into your wallet as there will be no carrier subsidy for this phone. At SonyStyle.com, the X2a can be pre-ordered with an expected availability date of April 29th. The cost of the device is $599.99.
The handset resembles its predecessor model with the angled physical QWERTY keyboard that is a landscape slider. While both the X1 and X2a feature the panel interface, the newer handset has higher specs including an 8.1MP camera with a
3.2
inch screen and a resolution of 800 x 480 pixels. Under the hood is a 528 MHz Qualcomm processor, a 1500mah battery, 256MB of RAM, 512MB of ROM and a 4GB microSD card is pre-installed on the device. The device has 3G connectivity for tri-band HSPA (850/1900/2100 MHz) which means that the phone will work over AT&T's 3G pipelines.
The Xperia X1 had its fans and if you liked the style of that model and want to use the panel interface, the Xperia X2a will give you all that plus raise the ante with higher specs on the camera, the display and the OS to name a few. The one thing that we wish the X2a didn't have in common with the X1 is the lack of a U.S. carrier's deep pockets so that buyers could take advantage of a subsidized price.
Sony Ericsson Xperia X2a Specifications
|
Review
(European version)
source:
WMExperts