Sony shows us that the Xperia Z3 still offers a feature that most high-end smartphones don't have
68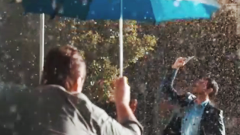 While Sony already announced an Xperia Z4, its global flagship is still the
Xperia Z3
from last year. That's because the Z4 (officially unveiled in Japan earlier this month) will not be released outside of Sony's home country.
Of course, Sony will eventually introduce a new global flagship (possibly in May), but, until then, the Xperia Z3 remains the company's most advanced handset that international customers can buy. That's why Sony today released a promo video showcasing a Z3 feature that none of this year's rival flagship smartphones has.
As you'll see in the video, Sony says that the Xperia Z3 "can capture beauty as it happens, in any weather." Needless to say, Sony is touting the water-resistant (IP68-certified) capability of the handset. Is that enough for people to choose the Z3 over a newer high-end smartphone? It's hard to tell, but Sony certainly hopes that the answer is yes.
We don't know if the next-gen global flagship from Sony will
resemble the Z4
, but we're pretty sure that it, too, will be water-resistant. We'll let you know more about Sony's plans regarding its upcoming flagship as soon as we have new details.
No images