Sony shows us how light the Xperia Z4 Tablet is by making it float (with a bit of extra help)
12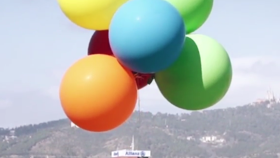 The
Xperia Z4 Tablet
is the only new flagship device that Sony announced at MWC 2015, and it's the lightest 10-inch slate ever made (389 grams, or 393 grams if we're talking about the LTE model).
To show the world just how light the Z4 Tablet is, Sony tied the device to a few balloons to see if it floats above Barcelona. As you'll discover in the video embedded below, the Z4 Tablet did float - although, to be frank, we're thinking that the same thing would have happened with other comparable 10-inch tablets.
Sony is already
accepting pre-orders
for the Xperia Z4 Tablet in Europe (for as low as €559), though it won't actually start selling the device before June - when the new slate will probably also be available in the US.
Just like Sony's previous slates, the Xperia Z4 Tablet is dust- and water-resistant (IP68-certified). It's the company's most advanced tablet yet, thanks to the fact that it sports a 10.1-inch display with 1600 x 2560 pixels, while being powered by an octa-core Qualcomm Snapdragon 810 processor. The Z4 Tablet also comes with an 8.1 MP rear camera, 5 MP front-facing camera, 3 GB of RAM, 32 GB of expandable storage space, and a 6000 mAh battery.