Sony returning to the U.S. market with a bang
25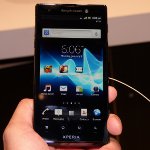 Yesterday's
unveiling of the Sony Xperia ion
at
CES 2012
made us think about the hidden significance behind this announcement. The Xperia ion is not just a new top-of-the-line smartphone by the manufacturer. It represents Sony's commitment to setting its foot on the U.S. market once again. In short, the company hasn't had a big-time, high-end model in North America for quite a while. Yeah, the
Xperia PLAY
launched on both Verizon and AT&T, and it's a very powerful smartphone, but it has always been more of a niche device. So when we talk about a real comeback to the U.S., we mean that Sony (no Ericsson anymore) is now going for the masses.
However, having in mind that U.S. customers are used to getting the latest and greatest tech, it makes us wonder if the ion will be good enough to successfully compete with monster offerings such as the
Samsung Galaxy Nexus
or the
Lumia 900
.
Without a doubt, the
Sony Xperia ion is very well-equipped
. The handset features an enormous 4.6" display with HD resolution, 1.5GHz Snapdragon processor, LTE and an impressive 12MP camera. The only downside of the Xperia ion that we see right now is that it'll initially launch with Gingerbread, and will only later be updated to Android 4 Ice Cream Sandwich, but that's seems to be a common practice among Android manufacturers now.
brand
anywhere in the world, Sony the phone-maker isn't particularly popular in the U.S., especially with that recent change in its name. Because of that, we foresee a bumpy start for the Sony Xperia ion. Sony will first have to go through the painful period of familiarization, where its premium products (the ones that are going to establish Sony as a brand in the phone biz) like the Xperia ion will be mainly purchased by small groups of early adopters.
On the other hand, the ion does sport features that are desired by the U.S. smartphone aficionado – a very large screen and LTE support are good examples. But the good things about this Sony smartphone don't end here. Similarly to almost any other Android phone manufacturer out there, the company's offerings are using a
custom UI
on top of the OS. Nothing out of the ordinary so far... but the important thing here is that Sony's smartphones rely on one of the best proprietary interfaces we've seen. It is pretty and polished, and it also manages to bring just the right dose of differentiation without overdoing things. In other words, if there's a perfect Android skin, Sony's solution is very close to it. That alone is a very important factor which can win over many users, due to the superior experience that it offers.
To summarize, we would say that Sony does have a pretty strong player in the Xperia ion (though we'd rather do a review first, and then jump to conclusions), which has what it takes to become a force on the market. However, this won't be as easy as it sounds, due to a) strong competition, and b) very weak brand recognition until now, at least in the field of high-end smartphones for the U.S. Give it the right marketing, though, and we're sure there will soon be a new big name in town. What do you think – will the Xperia ion help Sony conquer some valuable positions in the U.S.?