Sony prepping Windows 8 tablet slider?
11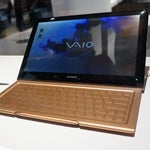 According to marketing materials obtained by Pocketnow, Sony has plans to add to its Android tablet offerings with a Windows-based tablet, presumably in the second half of 2012. The Marketing material bills the device as part of the Vaio U line, and it may be a precursor of the new form factors we will see when Windows 8 launches later this year.
The Vaio U is a tablet/notebook hybrid device with a keyboard that slides out. Concept hardware was shown at CES in January, but a lot of concept hardware never gets shipped as a real product. With the marketing material revealed, it would appear that Sony is a bit more serious about this particular tablet concept.
Depending on when the device comes to market it's possible it could ship with Windows 7, but there's almost no demand for Windows 7 tablets, so we expect the launch to be delayed until Windows 8 is available. The new Metro UI in Windows 8 lends itself to these sorts of dual-purpose touchscreen devices. It will work as a slightly chunky slate when closed, running the same apps you can use on your Windows Phone 8 handset, and then slide it open when you need to do some serious spreadsheets, or finish out that thesis you've been procrastinating on.
Does Sony's tablet hybrid appeal to any of you?
source:
Pocketnow
via
electronista