Sony outs Xperia Tablet Z: Kitchen Edition - just rinse after use
8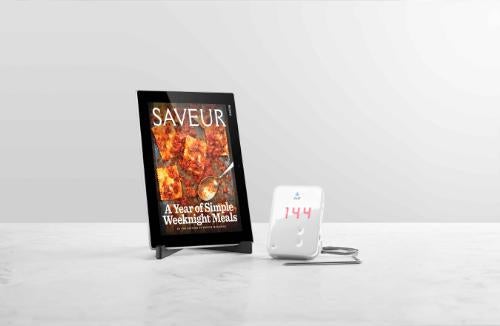 One of the logical uses for a thin waterproof tablet is in the kitchen while boiling and baking, and Sony seems to be perfectly aware, as it just introduced the
Xperia Tablet Z
: Kitchen Edition.
The world's slimmest slate got paired with the
iGrill
Bluetooth meat thermometer, a portable stand, and $115 worth of cooking and recipe apps for a grand total of $649, but for the 32 GB version of the Tablet Z.
Since it is waterproof, you can easily just rinse it after you are down swiping with wet, sticky, greasy or dough-laden fingers. The wireless thermometer will show you when the inside temperature of your baked goods has reached its predetermined level, and the cooking apps include the who-is-who of chef's software, such as:
BigOven
: Take 250,000+ recipes (including your own and recipes from friends), your grocery list and menus anywhere on your tablet.
Evernote Food
: Evernote Food helps you remember the food you love. From discovering great recipes and restaurants to capturing your memorable food experiences, Evernote Food is the one app you need to remember your life in food.
Juicing Recipes
: Offers information on juicing, including recipes, and everything you need to start or sustain a healthy juicing diet.
Food Planner Pro
: Food Planner allows you to keep an integrated meal plan, inventory database, grocery list and recipe collection that can sync between multiple devices. Quickly plan meals, import recipes, track inventory, create grocery lists and share it all in real time with other members of your family.
iGrill Pro
: Connects the wireless cooking thermometer to the tablet.
Out of Milk Shopping List
: Shopping List, Pantry List and To-Do List in a small, intuitive and easy-to-use app.