Sony's innovative "firsts": Infographic reveals the notable evolution of the Xperia line
26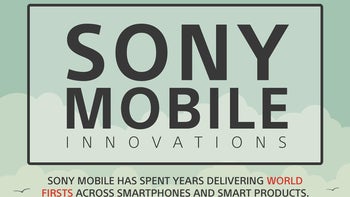 To better showcase its innovation feats over the years, Sony just compiled a nifty infographic that shows what it has achieved over the past few years and how its innovations have shaped the Xperia lineup of devices.
Showcasing its "firsts", Sony highlights a the following of its most notable phones:
Sony Xperia Z for its unrivaled water-resistance at its time;
Sony Xperia Z5 Premium for its 4K display;
Sony SmartWatch 3, the first GPS-enabled Android Wear smartwatch;
Sony Xperia XZ Premium for being the first one with a 4K HDR display, Gigabit download speeds, and super slow-motion;
Sony Xperia XZ1 for the first phone with real-time 3D face scanning;
Sony Xperia XZ2 for being the first phone to record 4K HDR videos.

Of course, Sony as a company has lots of other notable firsts, but its mobile division seems to be particularly proud of these specific innovations it introduced to the market. We sure hope many others come along the way as well.
Check out the infographic right below: