Sony denies rumors of a Windows Phone 8 handset
14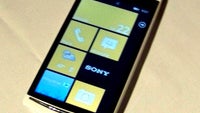 Remember when Sony Ericsson made smartphones based on Windows Mobile? Those times are long gone as the entire Xperia lineup that is currently on the market runs Android. Yet just a few days ago, a report claimed that Sony is likely considering partnering up with Microsoft again and
launch Windows Phone 8 smartphones
in the near future. That seemed like a credible speculation. After all, the tech giant has been making Windows-based PCs for years, and those
leaked WP7 prototypes
indicate that the company is open to diversifying its Xperia lineup with an alternative to Android.
However, Sony Mobile executive Kunimasa Suzuki put the rumors to rest by saying that the company is
not planning to launch any Windows Phone 8 smartphones at the moment
. For the time being, Sony will retain its focus on Android-based handsets, although it has been slowly losing market share due to fierce competition by other manufacturers. Sony's Mobile department has also been losing money recently, although Suzuki stated that the issue will be addressed by reducing costs and bringing new smartphones to the market in a timely manner.
So if you've been hoping for a PlayStation-branded smartphone with Windows Phone 8, Music Unlimited, and a Walkman music player, we're sorry to disappoint you, but such a handset isn't coming anytime soon. Yet who knows, perhaps if WP8 gains enough traction, Sony might think twice about it and enter the Windows Phone 8 market with an offering of its own. Guess we'll have to wait and see what the future holds.