Sony Ericsson Windows Phone prototype appears again, buyer wanted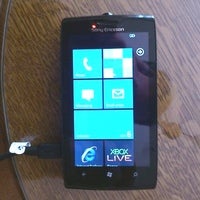 There was a time when Sony Ericsson was interested in entering the Windows Phone territory with handset of its own. Obviously, that never happened, but in case you are wondering what such a smartphone would have looked like, the photos below will give you a pretty good idea.
This is the Sony Ericsson Julie
– a Windows Phone prototype, which is once again being sold on the internet. It comes with a slide-out QWERTY keyboard, a 4-inch display, and an 8-megapixel camera that can take HD video.
Yet this is by no means a smartphone to replace your primary device with. It runs a beta version of the outdated Windows Phone 7.0, meaning that bugs might be common, not to mention that whoever buys it won't be able to download apps from the Windows Phone Marketplace. One should think of the Sony Ericsson Julie as a piece of history: it would look good on your shelf if collecting mobile phones is your thing, but nothing beyond that.