Sony announces new waterproof Xperia ZR
47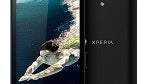 Late last month, word leaked about Sony putting together a waterproof (well, highly water resistant) Xperia ZR which would be able to withstand being submerged in water for up to 30 minutes.
Sony just uploaded a video introduction to the handset, and has also shared many of the specifications for the device. As it happens, the leaked specs we learned about a couple weeks ago were pretty much spot on.
The CPU is a Qualcomm Snapdragon S4 quad-core unit tuned to 1.5GHz, teamed with an Adreno 320 GPU. Android 4.1 Jelly Bean is on board with 2GB of RAM and 8GB of storage (microSD up to 32GB). The display is 4.55-inches, TFT 1280x720 which works out to 323PPI. Although another part of the Sony website says it is a 4.6-inch display (319PPI), so we will take the spec-sheet as a work in progress. The main camera is a 13MP Exmor RS sensor. It features all the goodies with various settings including a burst mode allowing up to 10 frames per second at 9MP resolution.
The real attraction is the durability. The 4.9-ounce (140 gram) Xperia ZR is compliant with IP55 and IP58 for dust and water resistance. That means it can be used under water to depths of 1.5 meters (just under 5 feet) for up to 30 minutes.
The rumored battery is 2,300mAh, but that is not indicated on the Xperia ZR's web page, nor is there any performance measurement about talk time or standby time. However, the device is 10.4mm thick (131mm tall, 67.4mm wide), so hopefully that space is filled with a good sized battery. LTE is supported, but it does not say which frequency bands. Outside of LTE, the Xperia ZR will support GSM/UMTS in all flavors, 850, 900, 1700, 1900, and 2100MHz at HSPA+ speeds. NFC is on board and the Xperia ZR will also support HD voice.
If you are hoping for an availability date or pricing, you are out of luck. There are no carrier announcements at this time either. Right now, the Xperia ZR is "coming soon" and will initially be available in black or white, although other colors are obviously in the works.
Check out the introductory video and pictures below. Check out Sony's page for the Xperia ZR in the source link as well.
source: Sony (
YouTube
, and
Sony Mobile
)