Sony and Samsung finalize split on joint LCD venture
3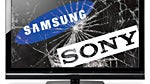 We
reported in November
that Sony was looking to sell off its stake in a joint S-LCD venture they undertook with Samsung, and now it appears the two companies have finalized the terms of the deal. Sony announced that they will be paid $939 million in cash by Samsung, making S-LCD Corp will a wholly-owned subsidiary of Samsung.
While much of S-LCD's manufacturing output went into flat panel TVs, some of it was also dedicated to making LCD screens for smartphones. The deal includes a strategic agreement governing Sony's continued ability to purchase LCD panels from Samsung's S-LCD subsidiary, with the intended goal of "enhancing the competitiveness of both companies".
Sony most likely gets first crack at a certain amount of the output of S-LCD, while Samsung gets greater flexibility in managing output and other manufacturing choices. Sony and Samsung reserved the right to continue to collaborate on the engineering behind LCD production, so Samsung will still have access to some of Sony's research prowess.
What does this mean to consumers? With luck it means smartphone screen prices will come down in price, although AMOLED screens continue to assault LCD screen market share on high end devices. It may positively impact Sony's TV division (which has lost money for years), but additionally may be part of the overhaul of Sony's smartphone realignment. Many
medium
and long-term changes can be expected now that Ericsson sold its portion of the Sony-Ericsson phone manufacturer to Sony.
source:
Sony
via
Engadget