A Sony Xperia phone with six rear cameras is reportedly coming
24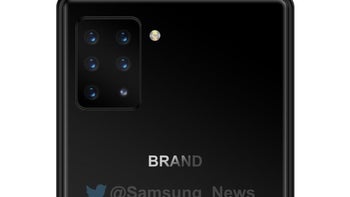 The LG V50 ThinQ has three cameras on the rear while the upcoming
Galaxy Note 10 Pro
is expected to debut with four. The Nokia 9 PureView currently holds the crown for most rear cameras with a total of five. But if a new leak is to be believed, Sony could soon take things a step further.
According to tipster Max J. who is known for his accurate Samsung leaks, Sony is currently developing a new Xperia smartphone that'll boast a whopping six rear cameras. It's unclear at the moment how these will be arranged – the accompanying render is simply a mock-up – but they will apparently be paired with a further two sensors up front.

The exact details of Sony's plans remain a mystery at the moment, but the device will presumably include a telephoto camera accompanied by a separate super-wide-angle alternative. Considering the recent popularity of Time-of-Flight sensors, one of these could be a candidate for the setup, while the remaining two could potentially be monochrome sensors for improved detail in low-light scenes. Regarding the front-facing cameras, it's claimed there will be two. Presumably, there will be a primary sensor accompanied by a wide-angle camera, although, once again, exact details are yet to be revealed.
Unfortunately for us, Sony's new smartphone is still in the early stages of development, so the design of the front panel also remains unclear at the moment. However, the recently-released Xperia 1 in addition to the mid-range Xperia 10 series suggests a 21:9 display will likely make the cut. As for specifications, the number of cameras means this device is probably an upcoming flagship. However, because the announcement timeframe hasn't yet been revealed – it could arrive in late 2019 or early 2020 – it's unclear at this point what processor it'll carry. Storage and RAM will most likely sit at 128GB and 8GB respectively, though.