Sony Xperia Z5 vs Apple iPhone 6: speed comparison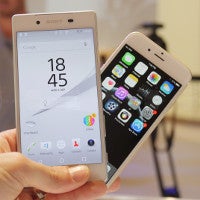 Different resolutions, different operating systems, and different applications. All of this might make you think that any cross-platform speed comparison is an exercise in futility, but out there in the real world the thing that matters is, ultimately, how fast does my phone open stuff compared to competitors. So, in a way, an impossibly difficult tasks such as comparing performance is suddenly not so complicated. In the end, it's the real world performance that people see, not that otherwise nuts
52,341
score on AnTuTu.
With that in mind, we thought we'd go for an improvised speed comparison featuring the brand new Sony Xperia Z5, and what better phone to fit the above criteria than Apple's
iPhone 6
? It has a different screen resolution, check, a contrasting operating system, and comparatively bare-bones apps in terms of appearance and sometimes functionality.
So which is faster when talking about the speed with which you can get to the apps we all use on a daily basis? Watch to find out!