Sony Xperia Z5 Premium hands-on: the first phone with a 4K screen
86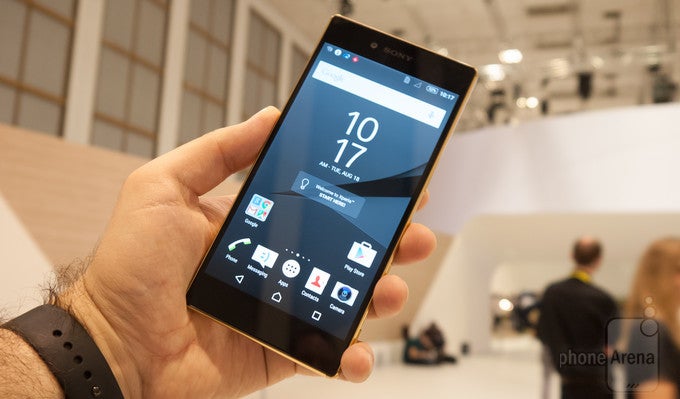 It was bound to happen sooner or later – the world's first smartphone boasting a 4K display has been officially announced. That's the Sony Xperia Z5 Premium, which got unveiled at IFA 2015. Long story short, we're dealing with a cool yet weird beast of a smartphone – a smartphone reminding us that technology still has plenty of room ahead of it to evolve. After all, a figure of 800 pixels per inch sound quite impressive, no matter how we look at it. On the other hand, the Z5 Premium raises the question whether a 4K screen on a smartphone is truly something we need or simply a gimmick. Let's dive into it, shall we?
Design
The Sony Xperia Z5 Premium is a large smartphone, there's no second opinion about it. Anyone whose hand isn't used to handling a phablet might find it weird to hold a beast of this size. Thankfully, the power and volume keys of the handset have been brought closer to the user's thumb, where they're easy to reach. The power key, in particular, hosts a fingerprint scanner, which can substitute your lock screen PIN. The scanner is convenient to use as it is fast and accurate.
The list of perks you get with the Sony Xperia Z5 Premium doesn't end here. The smartphone resists water ingress, as many other Sony high-ends do. In plain words, using the Z5 Premium under the rain or snapping photos with it in the swimming pool won't cause any damage.
Furthermore, the Sony Xperia Z5 Premium is one of the few smartphones packing front-facing stereo speakers. They'll surely be a valuable asset to anyone who spends a lot of time watching videos, listening to music, or playing games on their handset.
Display
With all the technical mumbo jumbo aside, we have to admit that the Z5 Premium's display does look great to the naked eye. As a matter of fact, we could probably stick our nose to its surface and still find it hard to spot individual pixels. But as many superlatives about the jaw-dropping resolution as we throw in this paragraph, we'll still be nudged by the feeling that having a 4K screen on a smartphone is kind of pointless. It is not the short supply of 4K content that makes us say that. It is our intuition saying that a typical user won't be able to see any difference in detail and sharpness if an Xperia Z5 Premium is stacked up against a QHD screen of similar size. Perhaps we should put our theory to the test when we get the chance.
Other than that, the display on the Xperia Z5 Premium treated us to wide viewing angles, as a display on a phone of this class should. Also, our eyes are telling us that color accuracy has been improved; some of you might remember that the Xperia Z3 performed poorly in this respect. Still, testing will be needed to confirm whether that's the case.
Interface
The Sony Xperia Z5 Premium runs Android 5.1 out of the box – a customized version of it, to be more specific. We're expecting a retail unit to be nearly identical to an Xperia Z5, software-wise. However, our demo unit ran non-final software that didn't feature all of Sony's custom goodies and extra features, so we guess we'll give you a thorough walkthrough at a later point in time.
Processor and memory
The storage space available on board the Xperia Z5 Premium can be expanded using a microSD card. Cards of up to 200GB in size should work just fine with Sony's handset.
Camera
Sony's camera division has been working hard on bringing a better camera to the company's flagship phones. The result is a 23MP camera placed on the Z5 Premium's back, with a sensor 1/2.3" in size and ISO that goes up to 12800. But the new camera's most touted feature is the hybrid auto-focus system, which allows it to focus in as low as 0.03 seconds. Under optimal conditions, of course. While the software image stabilization while shooting videos has been improved, it is somewhat disappointing to see that optical image stabilization is still lacking on Sony's top phones. At the front of the Xperia Z5 Premium we have a 5MP front-facing camera.
Hardware aside, Sony's camera app has seen some tweaking here and there. One of the first chance we noticed was that we're now allowed to shoot in full resolution even in Intelligent Auto mode, whereas older Xperia models had the resolution capped at 8MP when using the same mode. Manual mode is also present, alongside the Panorama, Slow-motion, and Burst modes. Plenty of other shooting modes can be downloaded as well, although many of them are just for fun and laughs, such as Sony's augmented reality mode, which we've known for a while now.
Expectations
We're welcoming the Sony Xperia Z5 Premium, but with mixed feelings rushing in. On one hand, we're still not convinced that 4K screens and smartphones should go together, given the pros and cons of having all those pixels on a handheld device. Sure, 800 pixels per inch produce a stunningly detailed picture, but is that worth the extra strain put on the Snapdragon 810 and the 3430mAh battery? Perhaps not. But that's how technology works. It evolves. It pushes boundaries. And we can't stand in progress' way, can we?
All in all, the Sony Xperia Z5 Premium could turn out to be a great phone, as long as the high resolution of its screen does not take too big of a toll on its performance and battery life. Expect seeing it on shelves near you in November of 2015, in both single- and dual-SIM flavors. Oh, and don't expect it to be cheap.