Sony Xperia Z1 Preview Q&A: We answer
21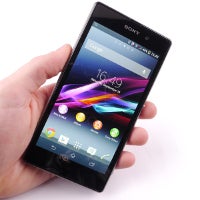 You guys have asked a ton of interesting questions regarding our Sony Xperia Z1 preview, and so we'll now try to return the favor and provide the answers you were looking for.
So, here we go!

Question by shy2papa
:
"Is there going to be a 32gb version or it only comes with 16gb?"
Answer
: There is no official information confirming the existence of a 32 GB Xperia Z1 yet. The handset is expected to ship with 16 GB of internal storage only, with about 11 GB of those being accessible to the user. Thankfully, it features microSD card slot, allowing you to install external memory.

Question by HeWhoDoesNothing
:
"Is the battery life better than the G2's?"
Answer
: It's a bit too early to tell, but hang in there, because we'll soon have the results from our custom battery test ready, and you'll be able to compare the Z1's battery life to those of other premium smartphones.

"Where would you put the Z1 display quality overall? best? second best? third best? etc. after what devices?"
Answer
: We can't necessarily rank the Z1's display, but it's certainly among the better ones. It's not at the same level as some other high-quality IPS LCD displays, such as those of the iPhone 5 and the HTC One, but it's among the better ones.

Question by saravanan083
:
"I love this beast but i want suggestion z1 or lg g2 (i love lg g2 more than this except the lack of memory card slot )"
Answer
: While we can't say just yet, you should definitely stay tuned, because we'll soon have an in-depth comparison featuring the Xperia Z1 and the G2.

Answer
: Absolutely!

Question by xperiaDROID
:
"I'm currently using the Xperia Z, should I upgrade to the Xperia Z1 or wait for next year's Xperia Z2?"
Answer
: The Xperia Z1 is, in a way, a better, faster and more refined Xperia Z, in almost every aspect. However, if you currently own the Z, we don't really think that upgrading to the Z1 would be worth it. There's not so much new stuff to warrant a new purchase.

"The Z1 is significantly heavier than it's competitors on paper, but is it a burden to hold for web browsing?"
Answer
: In our opinion, no, it's not too heavy. It definitely feels heavier than competitive smartphones, but it's far from tiring or anything like that. You can comfortably use it for whatever you wish, even for longer periods without pause.

"Is the triluminos screen anything unique, or any better than the competetion?"
Answer
: The Triluminos screen is definitely a nice move forward for Sony's displays, but it can't rival the best IPS LCD screens out there, like the ones on the iPhone 5 and the HTC One.

"1. How does the speaker compare to the Note II (my current phone) and iPhone 5 in terms of loudness (and not quality). 2. How does the display fare under DIRECT sunlight compared to LG G2 and iPhone 5?"
Answer
: Sadly, the Xperia Z1 has a much weaker loudspeaker compared to the Note II and the iPhone 5. Direct sunlight visibility is also slightly worse than that of the LG G2 and iPhone 5, but almost insignificantly worse..

"What is audio quality like via good earphones? Thanks!"
Answer
: If you happen to have a pair of really nice earphones, audio quality with the Xperia Z1 will be great.

"On the Z and the ZL there was a regular burst mode that would shoot low, mid, and high quality photos in different resolutions. My question is whats the resolution of the regular burst (not time shift) on the Z1"
Answer
: The resolution of pictures when using regular burst shots is 8 MP (3840 x 2160 pixels), no matter if you're shooting at regular or high speed.