Sony Xperia Z1 Compact vs Apple iPhone 5s: first look
26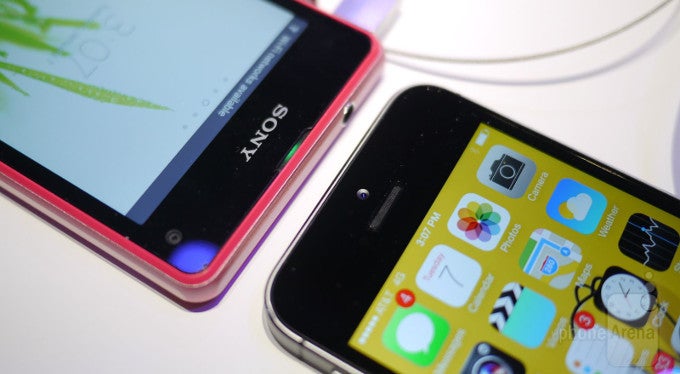 Despite the numerous, and quite significant, differences between the Apple iPhone 5s and the massive crop of Android devices, Cupertino's smartphone has often found itself on the shortlist of devices that new flagships inevitably end up being compared with. And yet, it's very rare that we have an Android device that is this similar to Apple's flagship. We're talking, of course, about the newly-unleashed Sony Xperia Z1 Compact. Sporting a premium build which rivals that of Apple, a compact, 4.3-inch display, and top-notch hardware, the Z1 Compact is not at all unlike the iPhone 5s. Let's take a look.
Design
Apple user or not, there's no denying the refined looks of the Apple iPhone 5s. It's slick, with a sturdy, aluminum corpus, and some seriously compact dimensions, thanks to that 4-inch screen. The frame, the home button that doubles up as a fingerprint scanner, and every other ornamenting element all give the iPhone 5s a dignified, truly premium look and feel. And yet, despite all of the above, the iPhone 5s doesn't snatch an easy win when faced with as greatly-built device as the Sony Xperia Z1 Compact. To its end, Sony has also outfitted the Z1 Compact with a truly sturdy construction, one that is both water- and dust-proof, which is an important perk. Moreover, the materials that went into the body of the Z1 Compact are just a shy less impressive, thanks to the all-glass back and metal frame.
Display
Looking at the display of these two little warriors, there are a few things we'd like to note. For starters, the 4-inch 1136x640 resolution IPS display on the iPhone 5s is quite familiar to us, and we've always regarded it as one of the best ones out there. It's sharp (325ppi), produces very accurate colors, offers excellent outdoor visibility, and leaves little to be desired, as far as viewing angles are concerned. On the other hand, the 4.3-inch IPS panel on the Xperia Z1 Compact is no punk, either. It's even more detailed (341ppi), thanks to its 720x1280 resolution, renders colors accurately for the most part, and looks great overall.
Interface
When it comes down to the interface, there's obviously a lot we could talk about in terms of differences. Android and iOS are, after all, quite different in their approach, though we certainly feel like the gaps between the two are much narrower now. This is especially true with the Sony Xperia Z1 Compact, as the manufacturer has kept true to a more sane philosophy, which means that functionality doesn't come at the expense of simplicity. The UI is kept relatively simple, and doesn't bombard you with an endless stream of options and tweaks, and is actually beautifully made. But when it comes to minimalism and ease-of-use, nothing quite nails it as does Apple. This has changed a bit, now that iOS 7 has been introduced, yet even the new, more colorful UI remains top of the class, as far as intuitiveness goes.
Processor and memory
We're looking at two truly powerful devices, with the Xperia Z1 Compact and the iPhone 5s. Both are packing some truly high-end silicon, and you'd be hard-pressed to get your hands on more potent device. Starting with the Xperia Z1 Compact, we've got Qualcomm's most powerful chipset right now -- the 2.2GHz, quad-core Snapdragon 800, with a speedy Adreno 330 GPU and 2GB of RAM. We've witnessed the abilities of Qualcomm's chip first-hand, and we can imagine it'll have no trouble handling any possible task we may think of, especially on a 720p resolution device. Apple's iPhone 5s, on the other hand, sounds slightly less impressive on paper -- a custom-made 1.3GHz, dual-core A7 chip with a PowerVR G6430 GPU and 'just' 1GB of RAM. Be that as it may, Apple's 64-bit chipset has proven to be an absolute powerhouse, and not just because of the lower number of pixels it has to push. Simply put, the hardware on either of the two leaves little to nothing to be desired, and is ahead of the needs of just about any piece of software currently available.
Camera
Sony's Xperia Z1 Compact sports the very same 20.7-megapixel rear shooter, found on the Xperia Z1/Z1S, so we assume that we can expect just as great results from it. Outfitted with G Lens and an Exmor RS sensor, we regard this as one of the very best shooters currently available on a phone, though it isn't exactly perfect. For example, night shots are not as great, not to mention that despite its giant resolution, the software snaps 8-megapixels by default. On the other hand, all these extra pixels do allow for some lossless zooming, which is a considerable advantage. In contrast, the iPhone 5s' 8-megapixel snapper is much less complicated, yet produces some amazing results, thanks to the intelligent software. Moreover, taking great shots with Apple's flagship is both quicker, and simpler, and it has proven to be the slightly more reliable option. Once again, this is only valid, granted that both the camera software and hardware found on the Z1 Compact haven't gone through a revision.
Expectations
Appreciators of the compact form-factor just got themselves something to love. The Sony Xperia Z1 Compact is, all around, a great device, and it will undeniably prove a perfectly adequate alternative to the Apple iPhone 5s. Both smartphones are packing some seriously bleeding edge hardware and come in a sturdy, premium body. With that in mind, it really comes down to a choice between the worlds of Android and iOS.