Sony Xperia Z hands-on
97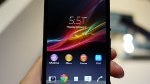 Watch out Samsung! There's someone gunning to dethrone you in the Android smartphone space, and more importantly, it looks as though they're getting started ahead of everyone. That's right folks, it's none other than
Sony
who is shaking things up here at the Consumer Electronics Show in Vegas. Just as the
leaks have shown in the last month
or so, Sony's upcoming flagship is indeed for real!
Simply known as the
Sony Xperia Z
, it's the Japanese company's dubbed flagship device – and boy does it have the impressive specs sheet to live up to that recognition! Certainly we're drooling over its wicked hardware, which consists of many lovable elements that would crush most of the existing line high-end smartphones on the market right now, but interestingly enough, it merely matches some of the stuff we've seen already put forth by the HTC DROID DNA most recently.
First and foremost, the Sony Xperia Z travels in a different path from some of the other Xperia branded devices we've seen in the last year. Even though it might retain some of the Xperia design DNA, it's a little bit different this time – mainly because it's sporting a
glossy finish
with its casing, as opposed to some sort of cleaner looking finish. Of course, it's a big magnet for things such as fingerprints and smudges, but to tell you the truth, it's
soundly solid with its construction
. At the same time, Sony has been able to keep its profile relatively thin. Overall, it's undoubtedly a handful to hold, but when you combine its sharp industrial design with its sturdiness, which includes being
waterproof and dustproof
, it's a safe bet to assume it'll withstand a lot more punishment than some of its highly esteemed rivals.
Turning on the Sony Xperia X, our eyes relish the vibrant screen it's packing along. Specifically, it's a
5-inch 1080p display
that's using the Mobile BRAVIA 2 engine, which simply comes to life with its high contrast, robust color reproduction, and sharp viewing angles. Right away, it's really the centerpiece of the Sony Xperia Z, since it's the first thing to really catch our eyes from afar.
Under the hood, a
1.5GHz quad-core Snapdragon processor
coupled with 2GB of RAM is running the show. Although it's able to win us over with its mostly responsive performance, we're still seeing some sluggishness perusing around the UI – though, it's worth noting that this is a pre-production model we're scoping out, so it could be other software bugs that can be the culprit behind it. Rounding things out, it's impressively packing along a
13-megapixel auto-focus camera
that features an Exmor RS sensor, LED flash, and 1080p video recording. Additionally, it's carrying along 4G LTE connectivity, a microSD card slot, 2,330 mAh battery, and NFC.
With this particular pre-production model, it's running Sony's specific custom UI, an updated version of Timescape of course, which definitely packs its own set of eye candy, but from our cursory exposure, it doesn't seem to be drastically different in terms of comprehensive functionality. Oh yeah, did we mention that it's
Android 4.1 Jelly Bean
, with an anticipated software update to 4.2 sometime after launch?
In the greater scheme of things, Sony neglected to provide an exact price point and release date for this monster, but it's currently slated for a Q1 release, which means it can potentially be out any time before March. Needless to say, time might be working against this one indeed launches later in March, but if it really wants to take the crown by force, they need to get this one out sooner than later – with a price point that's no doubt on the aggressive side as well.