Sony Xperia XZ Premium now comes with a free 64 GB memory card
5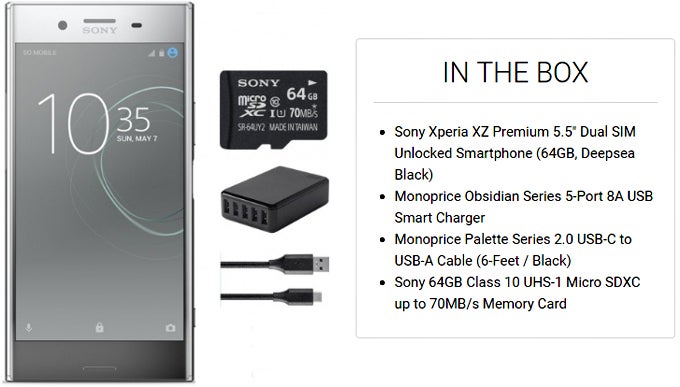 Available in the US since June, the
Sony Xperia XZ Premium
is one of the newest high-end smartphones on the market, and it's also among the most expensive models out there, costing $799.99 unlocked. If you're not exactly sure you should spend that kind of money on an XZ Premium, maybe the offer that we're presenting in this article will convince you.
Focus Camera (one of Sony's authorized dealers in the US) is currently selling the new Xperia with a few extras in the box. More exactly, for $799, you're getting the smartphone itself, plus a 64 GB Sony Class 10 UHS-1 microSD card (normally costing $39), a Monoprice Obsidian Series 5-Port 8A USB Smart Charger (normally costing $16), and a USB-C to USB-A cable (normally priced at $6). All in all, you're getting freebies worth a bit over $60.
Focus Camera offers the Xperia XZ Premium as part of this deal only in black and chrome. You can order any of the two color versions via the source links below. Or, if you want to find out more about the smartphone before buying it, feel free to check out our
Sony Xperia XZ Premium review
.