Sony Xperia X Performance vs Samsung Galaxy S6 edge: first look
14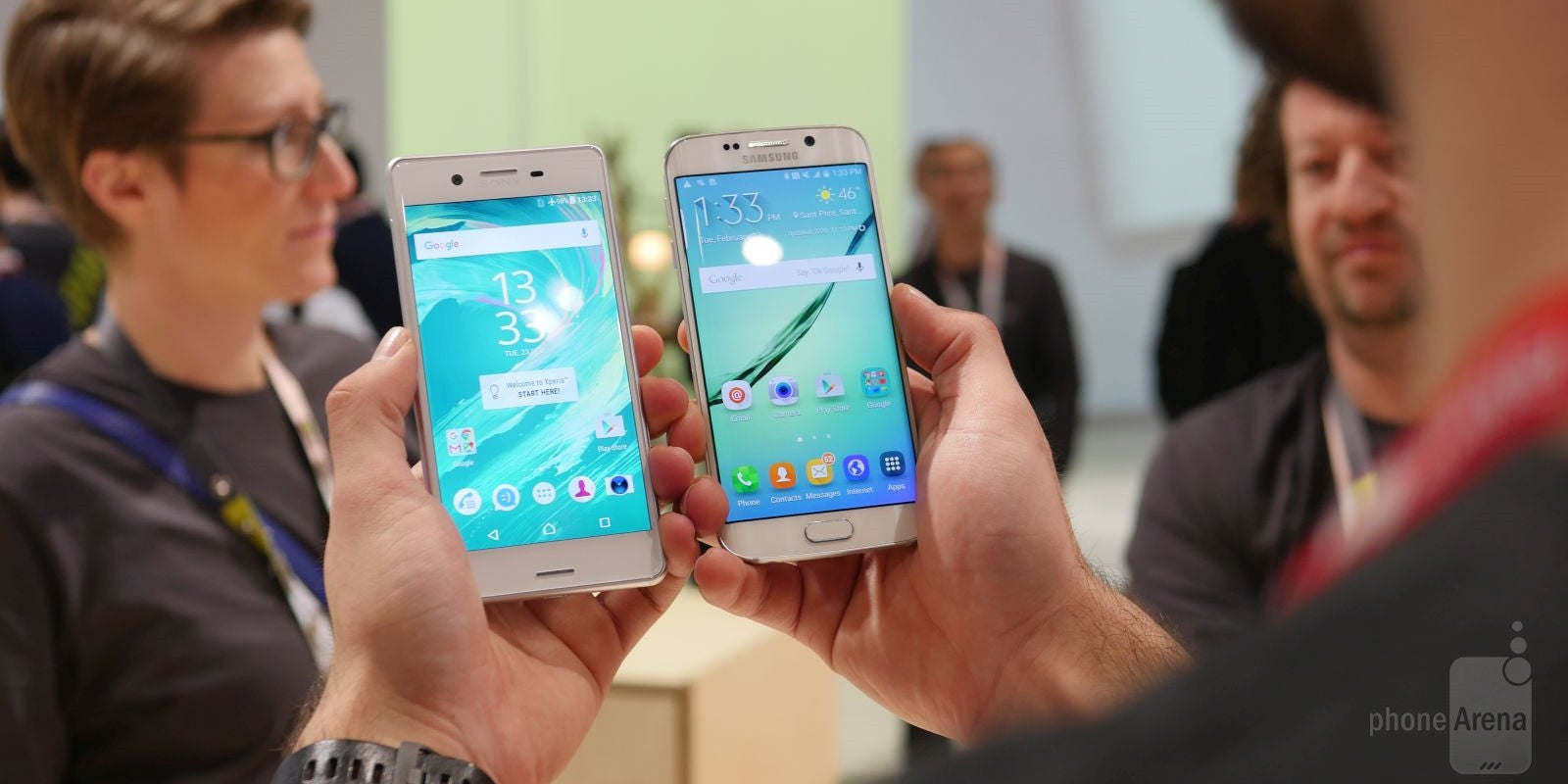 Everyone likes pleasant surprises, but Sony's utter bombshell at the MWC expo found us salivating over a brand new line of phones it unveiled, the X-series.
Sony Xperia X
,
XA
and
X Performance
entered the fray to very little fanfare, yet they are among the most interesting phones announced here, especially the X Performance, which is Sony's first phone powered by the latest Snapdragon 820. It's a cute but powerful 5-incher, that is why we took our time to pit it against Samsung's 5.1"Galaxy
S6 edge
to help you find out how Sony's new design stacks up against Samsung's current concept.
Design

The Xperia X performance sports, ahem, quite the Z-series design, with fairly rectangular chassis and just slightly rounded edges, but instead of an Asahi glass rear, it now features a "premium metal finish" available in several pastel or brushed metal coloring. Sony has rounded the edges, unlike the sharp and uncomfortable ones on the Z5, for instance, yet because of those round edges and metallic finish it feels a bit more slippery in the hand compared to the metal-and-glass S6 edge, despite Sony's promises for a more ergonomic grip.




Due to the slab-like design, and its thicker, heavier construction, the X Performance feels more solid in the palm than that bar of soap called the S6 edge, and it is also more ergonomic to handle as opposed to the sharper edges of the Samsung phone. Sony has two big aces up its design sleeve against the S6 edge, though - it is waterproof at up to five feet, and also features a microSD slot for storage expansion. Both devices have a finger scanner, but Sony went and placed it on the side of the phone, inside the lock key, which is a tad unorthodox to get used to, albeit more ergonomic.

Display
Both Sony's phone and Samsung's unit are a breath of fresh air among leading handsets as they are powerful premium handsets, yet employ a 5" and 5.1" screens, respectively, making them more manageable in the hand and pocket. Samsung's Quad HD Super AMOLED display flaunts a much higher pixel density than the 1080p panel of the X Performance, yet at these sizes the Full HD resolution is more than enough.
Colors look flashier on the Samsung, yet they shift to the cold side easily when you tilt the phone even slightly, while Sony has no such issues with its panel. The edge screens of Samsung look cool, but don't serve any particularly practical purposes at this size, so we wouldn't really count them as an advantage, save for some cool lighting tricks when you get a call.
Interface
Sony has thoroughly reworked the Xperia UI on Marshmallow with a flat look, new rounded icons, and overall simplified, easy to find menus. Our S6 edge still hasn't gotten Android 6.0, but is working on it, so for now it sports a ragtag TouchWiz look with plenty of extra functions thrown in for a good measure, which you might use, but most likely won't.
Processor and memory
Just as its title suggests, the Xperia X Performance is the most powerful model in the new X-series trio, sporting the fastest Snapdragon processor at the moment, the 820. Galaxy S6 edge is no slouch, either, with Samsung's own Exynos 7420, and both phones are coming with 3 GB of RAM. Specs aside, the Xperia interface felt much more fluid to swipe around and peruse in general than the TouchWiz-ed S6 edge. Moreover, the Xperia comes with a microSD slot, while with the S6 edge you are stuck with whatever internal storage you got at purchase.


Cameras

With the new X-series, a new 23 MP shooter has adorned the rear of Sony phones, with the so-called Predictive Hybrid Autofocus, scooped directly from Sony's blockbuster Alpha camera. In essence, it tries to guesstimate the direction your subject is moving towards, tracking it continuously, hence achieving a perfect focus without blur even on fast-moving objects, at least in theory. Again in theory, this should be superior to the mere phase-detection AF of the 16 MP S6 edge shooter, but when we compared the times to take a shot or wander around with continuous AF in video, the difference wasn't very noticeable.


Sony's camera surprises don't stop here, though, as the rear piece offers 5x Clear Image Zoom and ISO 12800 sensitivity, while the frontal shooter is a whopping 13 MP unit, also with enhanced low-light sensitivity. At the front, Samsung makes do with a 5 MP shooter, though megapixels are never a good predictor of quality, so we'll save judgment for the retail units.



Expectations
Apart from the curvy display, the Galaxy S6 edge doesn't have much to show against Sony's new Xperia X Performance. Sony promises a two-day battery, and usually delivers, and has provided a waterproof phone with a microSD slot - all of these features are lacking on Samsung's unit, so we expect it to be a the lesser choice when the Xperia X Performance finally hits after the spring. That's the biggest downside with it, though - we will have to wait a few months for it to land, and by that time the S6 edge might have fallen further in price for it to be a viable sparring partner.