Sony Xperia U Hands-on Review
15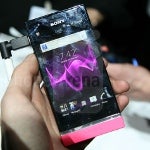 At a glance, the
Sony Xperia U
looks more or less like its flagship sibling, the Xperia S, only smaller. It features the same Identity design, and the special coating meant to repel dirt and dust is a welcome addition.
As a whole, we can say that the Xperia U is pretty nice little handset – it's made of plastic, but Sony has come up with a pleasing design, featuring the characteristic transparent line near the touch-sensitive navigation buttons and a changeable bottom part. These bottoms will be available in a number of colors, so that you can choose the one that suits you best. By the way, the above-mentioned transparent line actually illuminates in various colors, depending on how you set it. It can also lights up when you're getting a call, and changes its color according to the picture that you're currently viewing.
What we see on the smartphone's front is a petite 3.5-inch display with a resolution of 480 by 854 pixels. It did look fine while we were testing the handset here at MWC, but for some more in-depth details, we'll all have to wait a bit until we get the chance to review the handset properly.
The unit of the Sony Xperia U that we tested ran Gingerbread, but we really hope that Sony is to out the ICS update as soon as possible. There's been a fair degree of visual customization via the UXP NXT user interface (rolls right off the tongue). First of all, we see a revamped lock screen, as well as new gallery and music player apps. There are more than a few visual tweaks noticeable in Timescape.
Obviously, if HTC manages to pull off its software updating scheme well, its lineup will be a dangerous opponent to keep an eye on. The budget-oriented Xperia U is expected sometime during
Q2 of 2012
.