Sony Xperia TL hands-on
26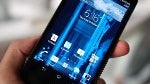 The name's TL, the
Sony Xperia TL
. That's what some of the hardcore Sony fans are hoping to hear when 007 is seen with the handset in the
upcoming James Bond movie: Skyfall
, which will be here in no time at all showing us Bond's latest adventure. As for the Android powered smartphone itself, Sony is looking to one-up itself after the competitively priced Sony Xperia ion from this past summer.
Although it's not quite a premier device per se, it's nonetheless a respectably stacked smartphone that should no doubt keep itself in good light amongst the many mid-range devices out there. Besides from wanting to see Daniel Craig whipping out the Sony Xperia TL in the movies, it's worth noting that the handset is going to be packaged along with Sony's own SmartTags to give potential owners a good taste of its NFC capabilities. Furthermore, it seems to be one camera-centric device as well, seeing that it's packing along a higher than normal
13-megapixel camera
.
Honestly, it's anyone's guess as to how the Sony Xperia TL will fare when there are so many competitively priced smartphones on the market right now. Still, we never know what kind of pricing will be attached to this one – especially when the Xperia ion surprised us with tis initial $99.99 on-contract price. Will it follow suit and possibly come in at a lower price point?