Sony shares the latest evolution of its Xperia Ear Open-Style Concept
2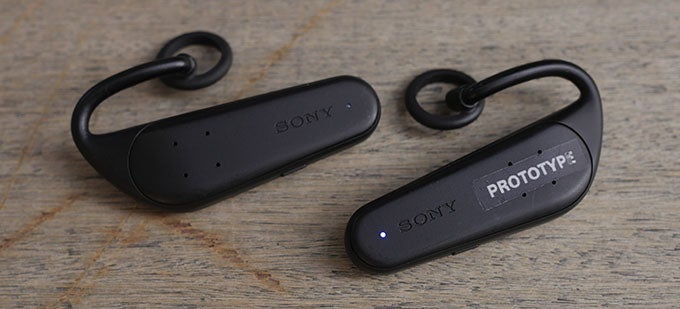 Modern headphone tech has managed to pretty much nail things when it comes to delivering really isolated sound: you can pop on a pair of headphones with real big noise-dampening pads, or even better,
one with some advanced noise-cancellation circuitry
. And when we want to totally block everything else out, those are great options to have. But in the active, social, challenging real world in which we live, that kind of isolation can also be a hindrance. Is there a way to enjoy high-quality sound without shutting yourself off from the world around you?
Bone-conduction tech sounds promising, but the audio quality isn't quite on par with traditional speaker-and-air systems. For the past several months now, we've been hearing about another possible angle to approach this problem from, as Sony works on an intriguing new project, the Xperia Ear Open-Style Concept.
We already shared with you
a very early look at these unusual headphones
back at Mobile World Congress 2017 in Barcelona, but those were display-only, not even functional; Sony realized it had a good idea, but it was going to take a little work to turn that into a commercial product. It still isn't quite there, but at IFA in Berlin we're checking out the progress that's been made towards bringing this decidedly unique take on
earbuds
to market.
Design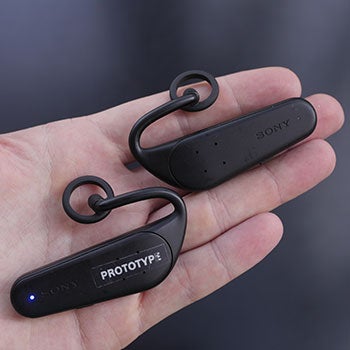 The same basic concept is unchanged since we first met the Open-Style Concept: instead of earbuds that fit snugly in your ear canal and aim a little speaker element right inside, Sony's design houses the speaker in an external enclosure that hangs below and behind your ear, then pipes its audio over what Sony calls a "spatial acoustic conductor": basically, a hollow tube that carries sound much in the way a hose carries water, or an optical fiber carries light. That tube terminates at the bottom of an open ring that sits in your ear.
The open ring allows plenty of external sounds to pass through to your ear unimpeded, while the acoustic conductor also delivers sound from your phone. If that sounds like a recipe for your phone's audio getting drowned out by all sorts of competing noises, well, Sony's already thought of that, and the earphones will automatically adjust volume levels to account for ambient sounds.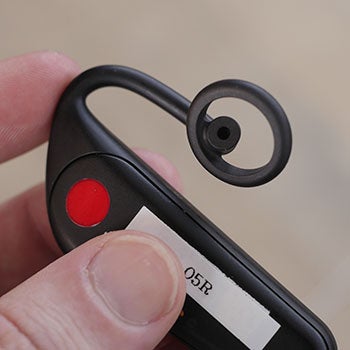 All the guts of the earpieces live in the part that goes behind your ear. In addition to the speakers themselves, those components house the batteries, wireless hardware, and an array of sensors, including those that track
motion
. The external surface is even touch-sensitive, for controlling media playback.
Motion control will detect things like nodding your head to accept a call, or shaking it side-to-side when you want to quietly reject an unwanted caller.
Right now, Sony's planning two colors for the Open-Style Concept: black and a pale gold. While those are already familiar smartphone colors, the company's reasoning here goes in a very different direction, and these shades were chosen to broadly match hair color: one dark, one light option. Depending on your haircut, they might even blend right in, disappearing behind your ear.
The earpieces are only one side of this equation, though, and Sony also plans to include a protective carrying case that doubles as a mobile charger. That's a setup we've seen on no shortage of existing earbuds, and it should help Sony users get through several hours of operation without needing to pull out any cables.
Why Open-Style?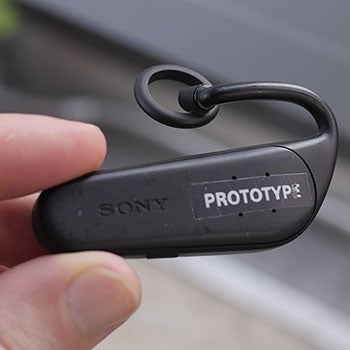 Sony really believes that these headphones offer something special that few other products can touch. Part of that has to do with fit. It can be tricky – even when you're dealing with alternate tips, sometimes a perfect fit can be elusive. According to Sony, the part of the ear we're talking about here where these headphones rest – the bottom, external portion, is more consistent person-to-person than other parts of ear anatomy. That makes it easier to deliver a comfortable product. And by keeping things down below the ear, Sony avoids any complications with glasses-wearers.
Comfort is something Sony emphasized multiple times when sharing the Xperia Ear Open-Style Concept with us, because it doesn't want this to just be something you pop in when listening to music. Like the existing Xperia Ear, this new model will tap into the company's voice assistant technology, offering always-on support.
Remember the early 2000s when everyone was walking around in public with big, bulky Bluetooth headsets? Sony seems to crave a return to those days, albeit with some greatly improved tech, and hopefully a much less intrusive design: all the benefits of those old headsets, without the social awkwardness. That sounds like a big ask, but we're curious to see how people will respond.
From Concept to Retail
Even though Sony's been showing off the Xperia Ear Open-Style Concept for months now, it's still not quite ready to make these into a commercial product. This week at IFA will be a key step on the road to that goal, though, as the manufacturer seeks out additional feedback and shares its ideas with potential shoppers.
Beyond finalizing the design of the earpiece hardware, Sony also needs to make some important decisions about things like pricing – a factor that will be crucial to any hope of commercial success. There's no set end-date in mind for when this development process might be wrapping up, but based on our familiarity with past Sony products that were similarly shared early-on in this matter, we'd say it's looking good that we'll be getting some launch news early in the new year.
For now, check out our latest hands-on video to see the progress Sony's made.