Samsung Level On Pro wireless headphones review
10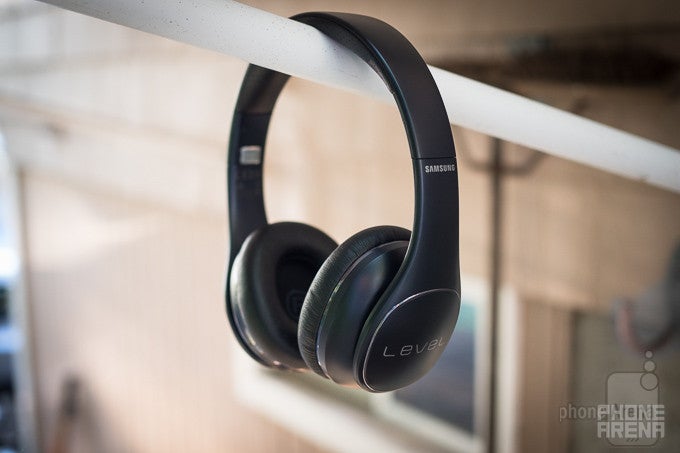 Introduction
On its own, your smartphone is a powerfully equipped piece of mobile hardware. But for as much as your phone can do solo, sometimes getting the most out of your handset involves pairing it with an accessory or two. Maybe a case affords you some much-needed peace of mind, or a battery pack helps stretch operational limits to new heights.
One of the most popular accessories we see users pick up is a nice pair of headphones. While the earbuds that come standard with so many phones may range in quality from good to great, there's still a huge range of headphone quality, features, and design that those bundled earbuds just can't touch. And though you can pick up an excellent pair for not a lot of cash, sometimes it's worth paying a bit more for a real tricked-out set. That's just the outlook we're trying on as we check out one of Samsung's high-end options, the noise-canceling Level On Wireless Pro.
In the Box:
Samsung Level On Wireless Pro headphones
Carrying bag
Male-to-male 1/8th-inch stereo cable
Micro USB charging cable

Design and comfort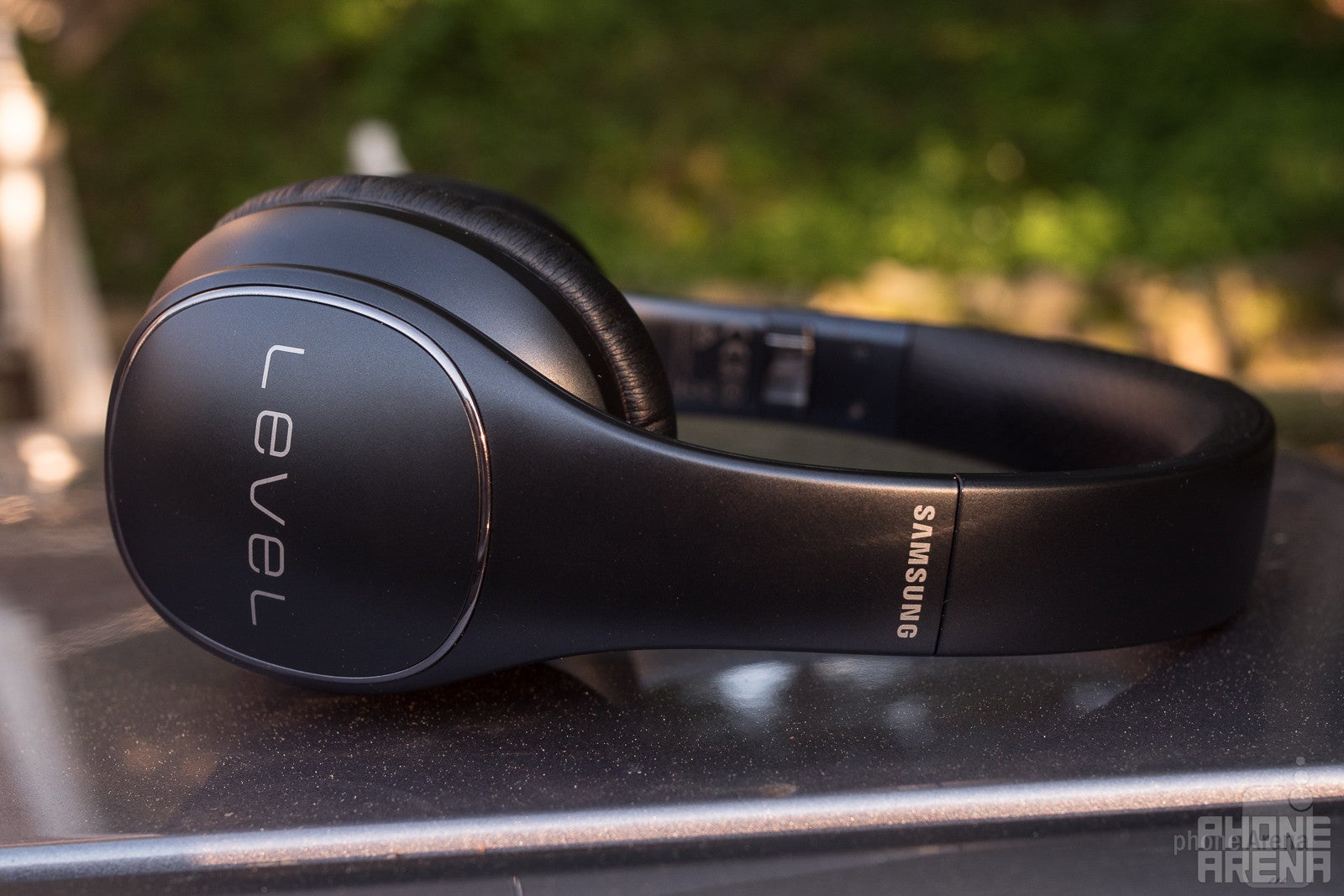 The Level On Wireless Pro has some classic big-can headphone looks. The headset features a pair of independently articulated earpieces that twist and turn in their headband mounts, letting each conform to the shape and angles of your head. The headband itself is hinged on each side just above the earpieces, allowing you to fold and store the headphones when not in use – and Samsung includes a handy drawstring bag for just that.
At these joints is also the place where you can extend the headband, sliding the earpieces down to accommodate various head sizes. That's also really handy if you want to get into VR, as you'll probably want to give the headphones a little more room if you plan on wearing them atop Samsung's own Gear VR.
The earpieces are tipped with a soft leather-like material that looks quite comfortable – and while it felt that way at first, we had some serious discomfort issues after wearing the headphones for a few hours with glasses on. The Level On Wireless Pro just exerts too much pressure on the arms – pressure that's transferred right to your head. That may not be an issue for you at all – and it's admittedly one that only crops up during longer listening sessions – but it can limit the appeal of these headphones for a sizable group of users.
Though the headphones generally feel well-made, the heavy use of plastic has us wondering how durable they'll be in the long term.
Software and functionality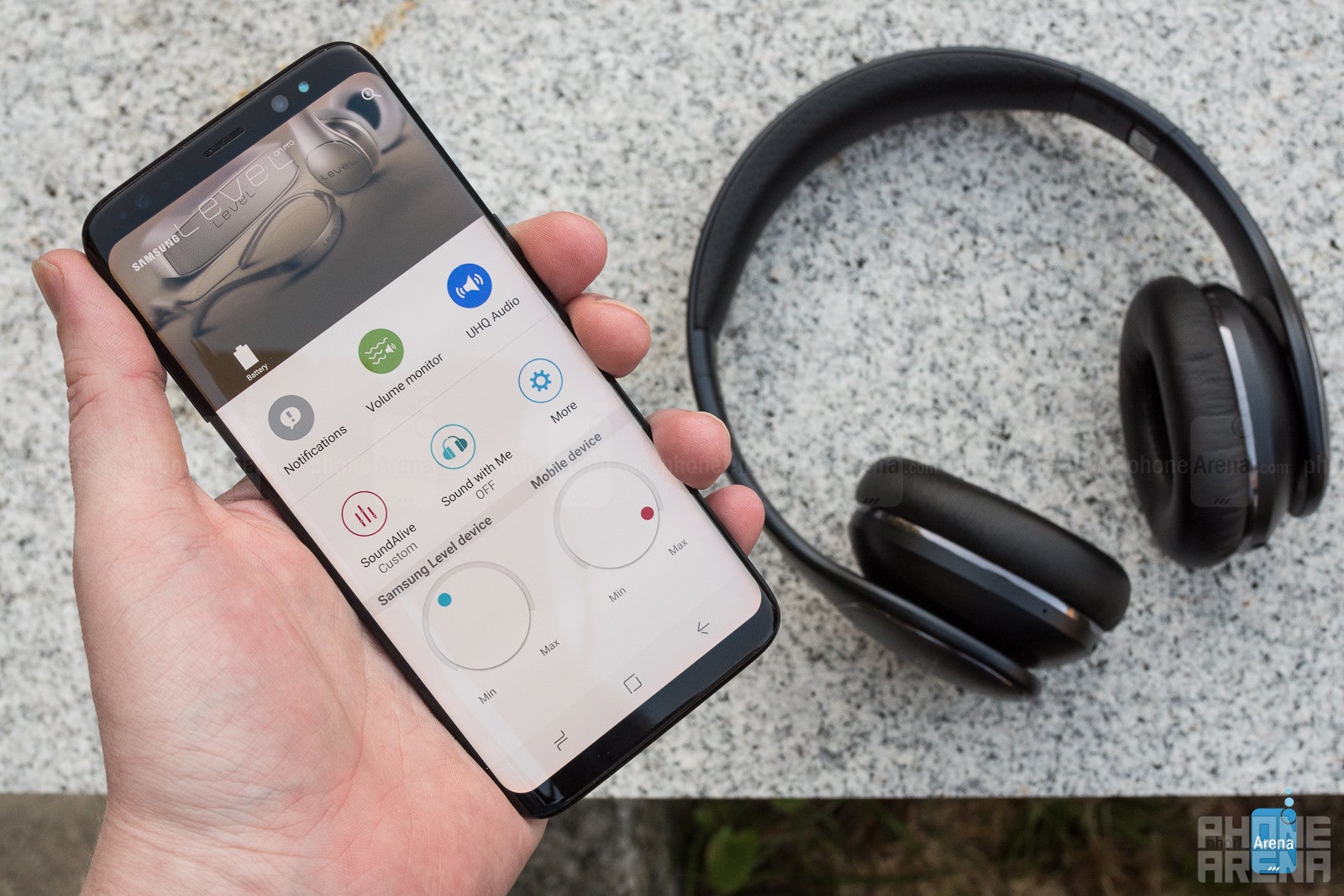 As a Bluetooth headset, you don't need any extras to take advantage of the Level On Wireless Pro – but you'd be missing out on its one big selling point if you did. See, Samsung also has a non-Pro version of this headset that is wireless, noise-canceling, and features the same design as this Pro model. The primary difference between the two is that this Pro model supports 24-bit Ultra High Quality Audio.
To tap into UHQA support, you're going to have to pair the headset with a compatible Samsung phone, and to get the very most out of it, you're also going to want to use the companion Samsung Level app.
Let's talk about those two things separately, as while the non-Pro headset gets access to the Level app, it lacks UHQA support.
The idea behind UHQA is that it interpolates the audio you're listening to up to 24 bits per sample – while standard CD-quality audio is 16 bits per sample. Obviously, a 24-bit recording can accurately reproduce more subtle changes in sound waves – but does that translate into UHQA making your smartphone audio sound better?
Subjectively, at least, we have to say, "Not by much." Like so many other audio tweaks (such as endless EQ fiddling), having UHQA engaged may deliver output that does perceptively differ a little from non-UHQA-enhanced audio, but even after extensive comparisons we're hard-pressed to say that it's actually making things any better. And without a really strong UHQA showing, it's quickly becoming clear that it's going to be difficult to recommend the Level On Wireless Pro over its non-Pro version.
As for the Level app itself, there's some useful stuff here. Take volume control, for example. Normally, when using the headphones you're adjusting volume in two places: on the phone, and on the headset itself. The former you'll control through app sliders or your handset's volume buttons, while on the headphones the outer surface of the right earpiece acts as a touchpad control, letting you swipe up and down to adjust your levels. And while that works quite well, there's also no sort of feedback (well, other than hearing things get louder, anyway); you never know where the volume level is, nor if you've reached the max. Well, in the Samsung Level app, you can finally see exactly where the headphone volume is set.
The Level app is also where you'll configure apps for getting voice notifications, configure equalizer settings, and get a breakdown on "listening fatigue" for extended listening sessions. The notification idea is an interesting one, but in practice doesn't work that great, with words often getting cut off, and music failing to continue afterward. There's also a "Sound with Me" option for sharing music among multiple headphones, if you've got another Level On Pro headset.
In the end the app is functional, if a bit simple. The EQ is nice, but there's nothing here that doesn't feel like it couldn't belong in general phone audio settings.
Controls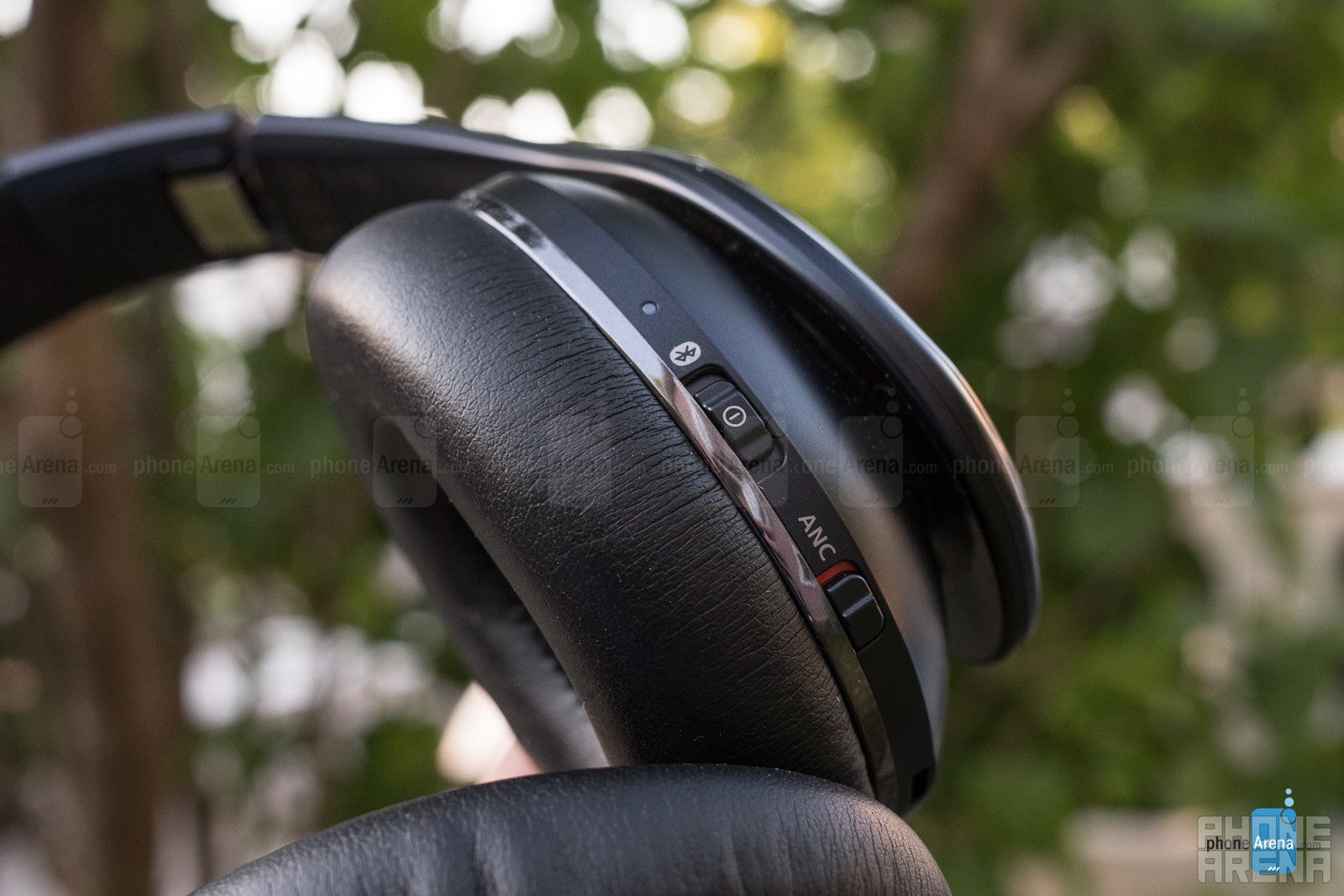 As we just mentioned the on-headphone volume control for the Level On Wireless Pro takes the form of a touchpad surface seamlessly integrated into the right earpiece. There, you'll swipe up and down to adjust the volume, tap to pause or resume playback, or swipe left and right to jump between tracks.
Those interactions all work very well, but we can understand how some users might prefer a little more tactile control option. If you place the headphones on backwards, for example, you might be swiping away without any response – and it could be a few moments before you realize what's wrong.
In addition to those touchpad controls, the right earpiece also houses two physical switches: one for powering the unit on and off (and initiating Bluetooth pairing), and another to engage the active noise cancellation.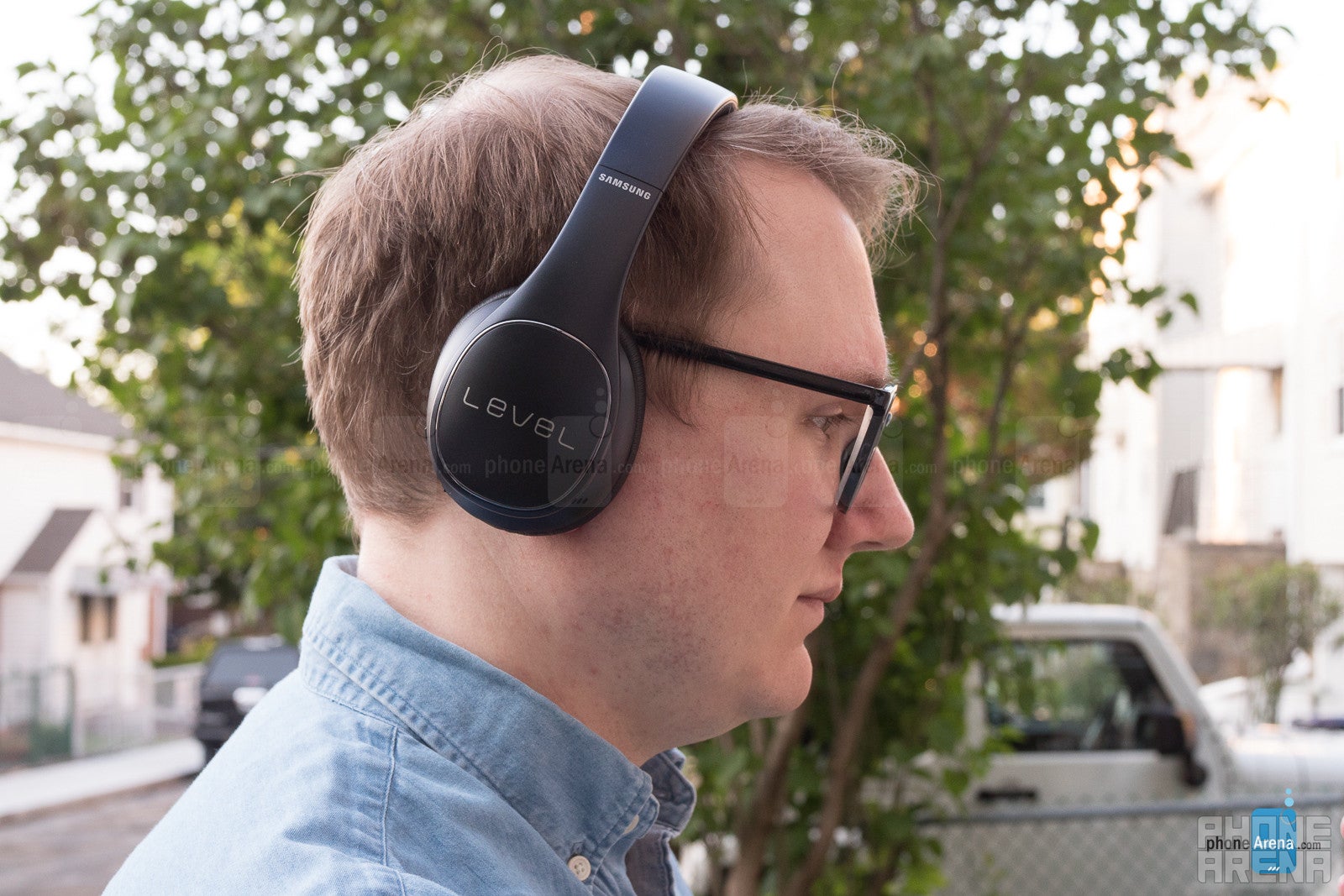 Sound Quality
As we'd only hope from headphones in this price range, there are no overwhelming mistakes when it comes to sound quality – and really, isn't that what we want from a good pair of headphones: sound that comes across as natural and un-processed as possible? But even if you are searching for a particular sound, the EQ settings available through the Level app offer ample opportunity to tweak that output in whichever direction you like, be that extra bassy, or crisp and clear.
It's to the Level On Wireless Pro's credit that regular Bluetooth connections sound as good as they do, and that we perceived little discernible difference when switching over to the UHQA mode. It's not like we were expecting a shift along the lines of moving from SD to HDTV, but for a feature that's touted as such a big selling point as UHQA (and especially one that mandates the use of Samsung phone hardware), Samsung's inability to easily demonstrate this supposed hook is a bit frustrating.
And if you're particularly concerned about audio fidelity, you can always bypass Bluetooth compression and transmission delays entirely by using the included stereo headphone cable – just because these headphones have "Wireless" in the name doesn't mean you're forced to take that path every time.
Then there's the active noise cancellation, and this really does work decently. The padded earpieces themselves already do a decent job at muting-out background noise, but the second you toggle on the ANC there's a pronounced difference in the quality of that silence; things like the hum of a nearby refrigerator instantly vanish into a background of low-level white noise.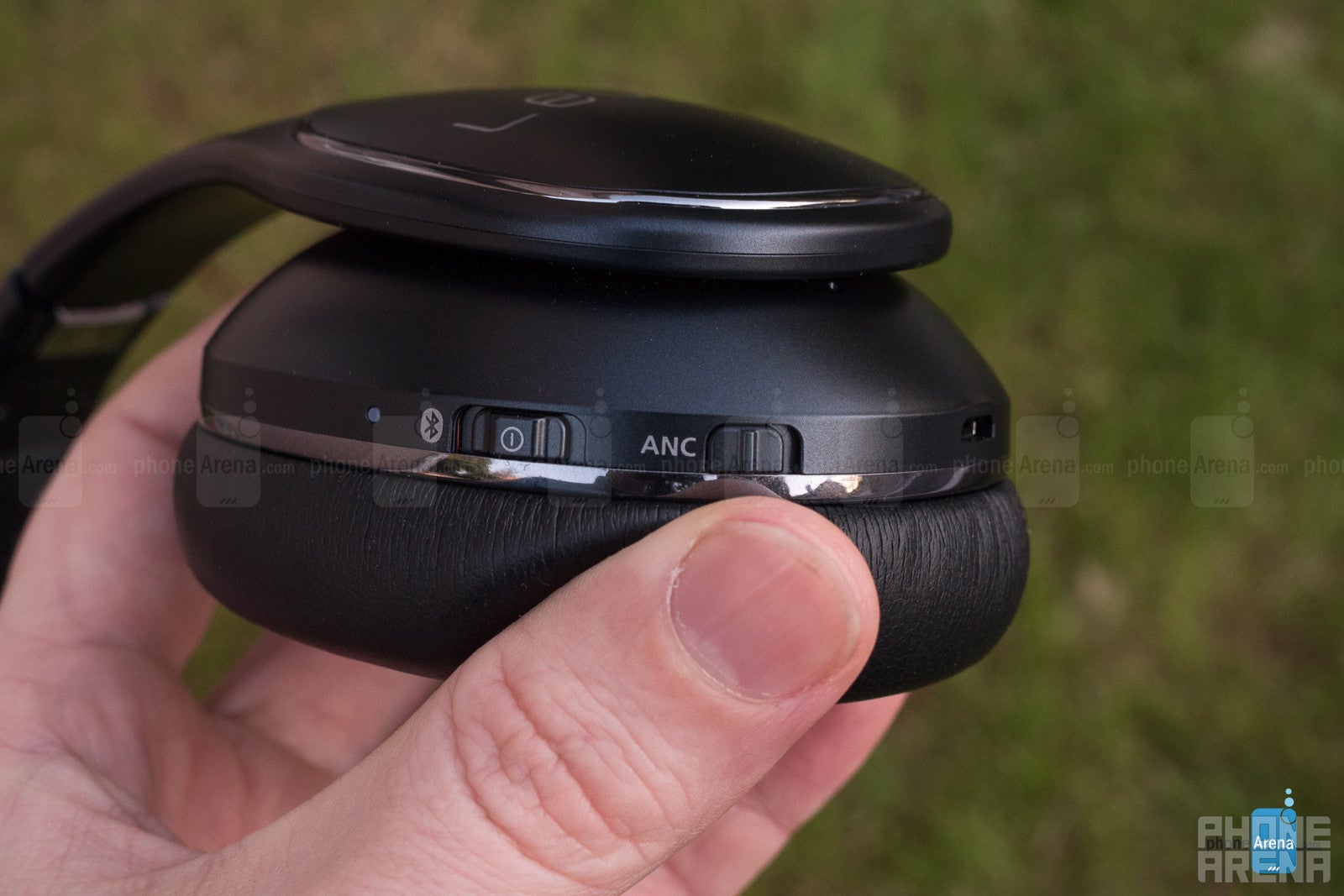 That said, we do have a few criticisms of the ANC mode. If you're already familiar with other high-end ANC headphones, the degree of sound cancellation on the Level On Wireless Pro may not be quite up to that same extent – it does a very good job, but it's not the aural equivalent of black-out curtains. Slightly more annoying is a very quiet clicking noise we'd occasionally hear through the left earpiece (and left alone) with ANC engaged while in environments with a high baseline noise level: think trains, or airplanes. It doesn't necessarily interfere with listening, but once your ear zeroes-in on it, it can be hard to ignore.
As for call quality, everything sounded fine on our end, though callers reported we didn't sound quite as clear as we might have had we been talking directly into a phone. It can also be a little disorienting making calls with the noise-cancellation engaged, as your own audio doesn't come through over the headphones; luckily, you can always switch ANC off.
Battery Life
One of the big benefits of a pair of full-sized wireless headphones like these (as opposed to increasingly popular wireless earbuds) is that battery life is far less of an issue; there's simply lots more room to fit in a battery that's adequate for even lengthy listening sessions.
Officially, Samsung says users can expect about 20 hours of listening with ANC off, or 10 hours with ANC engaged, and our experience suggests those figures are in the right range. Maybe the only frustrating thing there is that it can be tricky to tell just how much charge is remaining.
Unlike other Bluetooth headphones we've used that have a spoken prompt to indicate remaining battery life, the Level On Wireless Pro have no such feature built into the headphones themselves. And if you're using them as a straight-up Bluetooth pair, you're also going to be in the dark. The only way to tell how much battery is left is to use the Samsung Level app, but even then you're limited to a simple icon-style gauge, with nothing like a specific percentage-remaining readout. Still, it's enough to give you a heads-up when a charge is needed.
Conclusion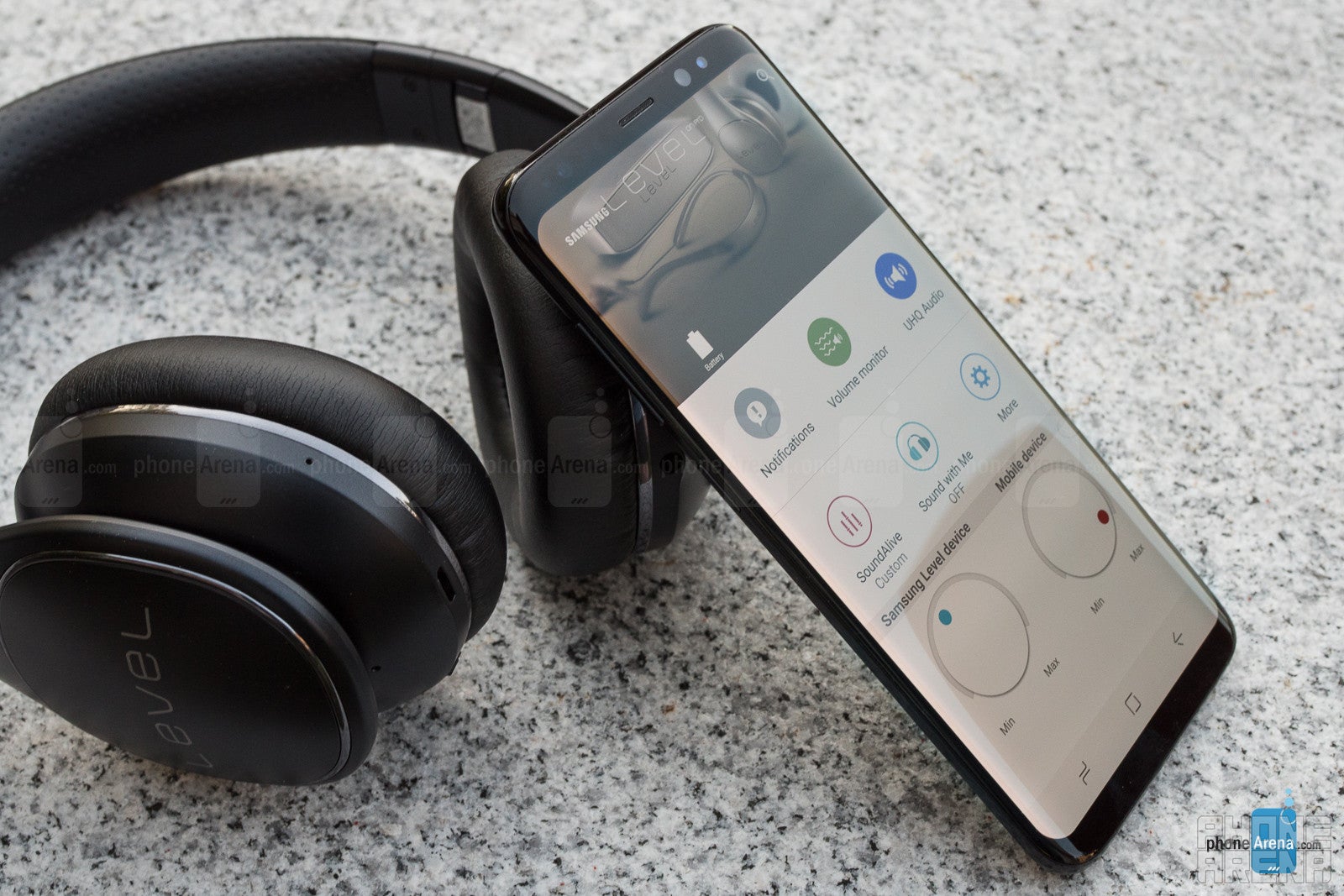 Headphones stretch across a huge gamut in terms of both audio quality and price – and somewhere in the middle there you'll find a sweet spot. The Samsung Level On Wireless Pro succeeds in some areas, like nice battery life, decent noise cancellation, and good sound quality. But it also comes up short in others, like its ultra-high-quality mode that doesn't sound that much better than standard listening, questionable comfort during extended sessions, and that darn clicking sound we kept running into with ANC.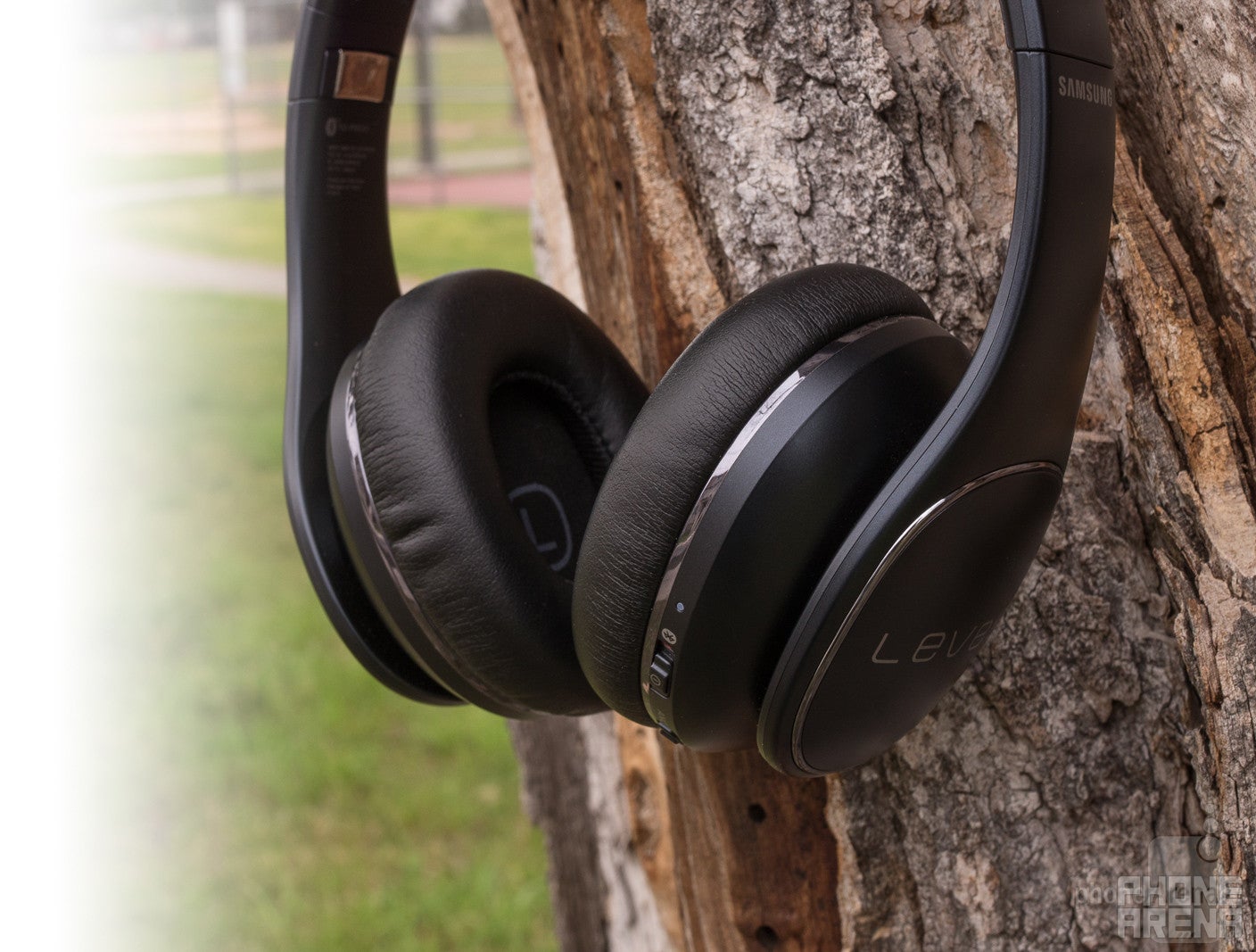 But as we were just alluding to, the trick to a good headset is value. When it first launched, the Level On Wireless Pro went for a cool $250 – and while that might be an acceptable price, it's also a point where we're going to be weighing all those minuses quite carefully before we hand over our cash.
Nowadays, though, you can pick up the headphones for more like $170 – a much more attractive price point.
If you like what you see here, maybe the question you really should be asking is whether or not you need the Pro version of the Level On Wireless headphones. After all, the standard version is more or less the same, with the omission of that UHQA mode that we really didn't feel delivered a lot of extra value. Problem is, this version seems a lot more difficult to track down these days – and with the price cut of the Pro, maybe you can just convince yourself that UHQA really does sound somewhat better.
Recommended Stories