Sony Xperia Android 7.0 Nougat roadmap reveals when each device will be updated
3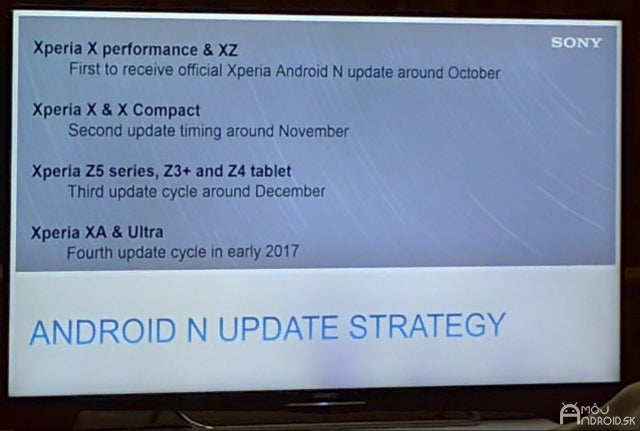 Sony seems to be aiming to have most devices updated before the year's end
If you're a Sony gadget owner wondering when your smartphone or tablet may see
Android 7.0 Nougat
, a purported roadmap slide may just have revealed all. The Japanese firm
has confirmed which devices will receive the tasty new treat
, though hasn't disclosed when said updates will be rolled out. A snap of a presentation slide appears to offer some ballpark ETAs.
Of course, we should take all of this info with a degree of apprehension for now. Even though the image does seem legitimately sourced in outlining Sony's target release brackets, we all know that Android updates are seldom linear and straightforward events. It's so often the case that the projected release date and the actual end user OTA notification are many months apart, so we're not getting too excited just yet.
Still, if Sony can roll Nougat out to all of its devices bar the XA series before the end of the year, it'll be a job well done. We'll keep an eye out for more info and will, of course, let you know as and when Android Nougat is made available to any Sony device.
Note: this article has been updated since its original publication to reflect Mojandroid.sk as the original source.