Sony Xperia 10 now available for pre-order in the US: An interesting Moto G7 alternative
2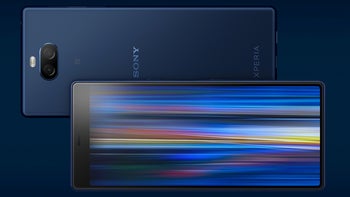 Earlier today, at Mobile World Congress 2019, Sony announced four new smartphones: the high-end Xperia 1, the mid-range Xperia 10 and Xperia 10 Plus, and the lower-end Xperia L3. While all four handsets will be released in the US eventually, for now, only one of them is available for pre-order: the
Xperia 10
(pictured above).
Priced at $349.99 unlocked, the Sony Xperia 10 can be pre-ordered from Best Buy, which says it'll launch the phone on March 18. The handset is fully compatible with AT&T and T-Mobile (plus prepaid brands like MetroPCS and Cricket), but it will not work on Verizon, Sprint, or US Cellular.
The Xperia 10 is a very interesting mid-range phone, as it sports a super-tall 6-inch IPS display with 1080 x 2520 pixels and a 21:9 aspect ratio (not found on too many handsets today). This screen is good not just for watching movies recorded in this aspect ratio, but also for multi-tasking: there's more room when you want to use two apps simultaneously. You can take a closer look at this new Sony phone in our
Xperia 10 hands-on
.
The price and features of Sony Xperia 10 make the device compete with the
Motorola Moto G7
- another new unlocked phone that's now
available for pre-order
and will be launched in the US in March. Both these handsets run Android 9 Pie while offering 64 GB of expandable storage space and dual rear cameras. However, the Xperia X10 uses a Qualcomm 630 processor and 3 GB of RAM, while the Moto G7 comes with a newer and slightly better Snapdragon 632 aided by 4 GB of RAM. Other two advantages that the Motorola phone has are its lower price ($299.99) and the fact that it's compatible with all major US carriers. A full specs comparison between the Sony Xperia 10 and Motorola Moto G7 is waiting for you below.
Scratch-resistant glass, Ambient light sensor, Proximity sensor
Scratch-resistant glass, Ambient light sensor, Proximity sensor
Qualcomm Snapdragon 632 SDM632 (14 nm)
Qualcomm Snapdragon 630 SDM630 (14 nm)
Octa-core, 1800 MHz, Kryo 250, 64-bit
Octa-core, 2200 MHz, ARM Cortex-A53, 64-bit
Android (9.0 Pie)
Android (10, 9.0 Pie)
Motorola TurboPower
USB Power Delivery
29.00 hours
the

average

is 17 h (996 min)
31.5 days (756 hours)
the

average

is 20 days (472 h)
23.00 hours
the

average

is 19 h (1110 min)
33.4 days (802 hours)
the

average

is 0 days (0 h)
32.1 days (771 hours)
the

average

is 0 days (0 h)
13 MP (PDAF, CMOS image sensor)
Aperture size: F1.8; Pixel size: 1.25 μm
Aperture size: F2.0; Sensor size: 1/3"; Pixel size: 1.12 μm
5 MP (Depth information)
5 MP
Aperture size: F2.4; Sensor size: 1/4"; Pixel size: 1.4 μm
3840x2160 (4K UHD) (30 fps), 1920x1080 (Full HD) (60 fps), 1280x720 (HD) (120 fps)
3840x2160 (4K UHD)
Time-lapse video, Hyperlapse, EIS, Video calling, Video sharing
EIS, Video calling, Video sharing
8 MP
8 MP
1920x1080 (Full HD) (30 fps)
1920x1080 (Full HD)
6.18 x 2.96 x 0.31 inches (157 x 75.3 x 8 mm)
6.14 x 2.68 x 0.33 inches (156 x 68 x 8.4 mm)
6.07 oz (172.0 g)
the

average

is 6.5 oz (184 g)
5.71 oz (162.0 g)
the

average

is 6.5 oz (184 g)
Back: Glass (Corning Gorilla Glass 3); Frame: Plastic
Back: Plastic
2D Face unlock, Fingerprint (touch)
Fingerprint (touch)