Sony Xperia 1 battery life: real-life impressions and test results are out!
12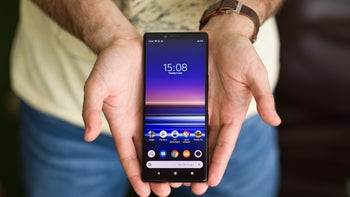 The Sony
Xperia 1
is a monster of a phone: the world's first 4K AMOLED display, Snapdragon 855 chip, a new 21:9 super tall and narrow form factor, gaming optimizations, new cameras, and the list just goes on and on.
And lo and behold, all of those monster specs are combined with... a tiny little 3,300mAh battery. Now, that number sounds paltry in comparison with the competition where we often get 4,000mAh+ batteries (and we still want even bigger ones). So, how does this tiny 3,300mAh battery perform in real life, and has Sony managed to surprise us with some battery optimizations to make this phone last more than you would think?
The first thing that we do is start with our own battery test that measures screen on time under typical use. And the result that the Xperia 1 scores here is... well, just not that great.
But that's not a surprise. Most previous Xperia phones of the same flagship grade stick with those smaller batteries and the battery life has not been quite that great. So yes, a larger battery is definitely high on our wish list for the next Xperia phone.
What we did notice, however, was that Sony does indeed manage to pull off some software optimization magic and the stand-by battery drain on the Xperia 1 is minimal. To put this in numbers: the phone loses just 2% of juice overnight, less than most phones out there. So if you are not constantly checking your phone to see what's new, you should be able to extend that battery life to more than the numbers would suggest.
Our Nick T is reviewing the phone (stay tuned for the full review, coming soon!) and he shared the following real-life impressions of the Xperia 1:
Yes, that's a solid 6+ hours of real-world screen-on time which is definitely more than you get on other phones. Now, Nick is not the heaviest of users, but you can see that he still managed to squeeze in a bit of Minecraft and Fortnite in his free time, and still get those numbers. Not bad, is it?
The interesting thing is that the Xperia 1 comes with a fast charger in the box and it takes less than two hours to fully recharge the battery from 0 to 100%. That's not quite as fast as the
OnePlus 7
Pro that takes just an hour and 17 minutes, but it's still good enough in our books.
The full review of the Xperia 1 will be coming very soon and it's shaping up to be a fascinating read with some interesting observations about the new camera, so stay tuned!